It takes great teachers to produce great teachers.

That's the message behind a new promotional campaign from the 3M National Teaching Fellowships program, offering "Full Marks to the Teachers Who Inspired Us."

The campaign features Kim Brooks, dean of the Schulich School of Law, who was named a 3M National Teaching Fellow just prior to her arrival at Dalhousie.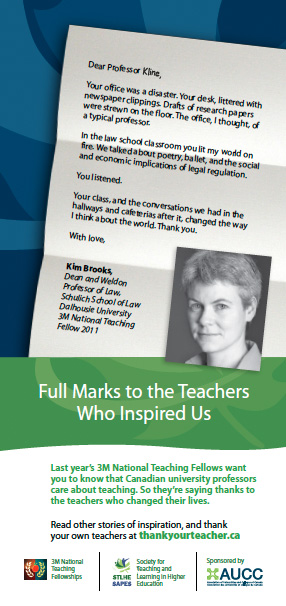 "We know there is lots of teaching excellence across this country," says Prof. Brooks, who planned the campaign with her fellow 3M Fellows. "We wanted to pay tribute to the great teachers that we had, who inspired us to get to where we are today."

In her ad, Prof. Brooks singles out Marlee Kline, who taught her poverty law at the University of British Columbia.

"I've had lot of teachers who were experts in their field, or ones who were dynamic speakers. But what distinguished Marlee was that she wanted to know something about who you were as a human being. She cared about the fullness of who you were—your passions, your beliefs—and she found ways to support those in the classroom. Her classes were a really unique experience."

The campaign invites people to share their own stories about encountering life-changing teachers at its website, thankyourteacher.ca.

For Prof. Brooks, it's the personal touch that separates the greatest teachers.

"You can be a great teacher, and know your material, but really extraordinary teachers are the ones that succeed in building a community," she says. "It's about connections between people, not just between concepts and course material"
Telling teachers' stories
We invited three more of Dalhousie's 3M National Teaching Fellows recipients to share their stories about the teachers that inspired them.

Robert Summerby-Murray, Dean of Arts (3M Fellow, 2006)
Dr. Summerby-Murray remembers a moment where Martin Viney, his chemistry teacher at Christchurch Boys' High School in Christchurch, New Zealand, fell into a small river while collecting methane gas and emerged, drenched, to spend the rest of the three-hour class sopping wet, totally focused on the learning environment. "From Dr. Viney I learned the importance of commitment and passion as a teacher - and that 'teachable moments' are sometimes serendipitous!"

Srini Sampalli, Computer Science (3M Fellow, 2005)
Though he had many wonderful teachers in his native India, Dr. Sampalli, who says effective teaching involves "good preparation, effective delivery and, most importantly, a caring attitude," singles out his mother, who was a history professor. "She was an award-winning teacher herself, and growing up in a teaching environment is what inspired the same passion in me. I knew what my career was going to be as early as grade 4, when I found myself coaching and tutoring my fellow students."

Tom MacRae, Biology (3M Fellow, 1997)
Dr. MacRae also mentions a parent as a notable teacher—his father—but also highlights William "Bill" Trentini, who taught him microbiology at Mount Allison. "He's the one who saw potential in me and inspired me to run with it. Before that, I was somewhat of an aimless second-year student... he set me on the path to grad school."

Who has been your most inspirational teacher? Feel free to make a submission at thankyourteacher.ca or share in the comments below.