It's a recognition that celebrates a distinguished career in research – the cumulative accomplishments of an academic life.

The designation is "FRSC": a Fellow of the Royal Society of Canada.

"Being able to put those four letters after your name, people know that your work has amounted to something," says Bernie Boudreau, oceanographer and dean of the Faculty of Grad Studies.

Dr. Boudreau was one of two Dalhousie faculty who were named RSC Fellows in the fall. The other was Ray Klein, chair of the Department of Psychology.

"It's a great honour," says Dr. Klein. "It's a small, esteemed group."

The Royal Society of Canada was established in 1882 as Canada's National Academy, bringing together distinguished scholars, artists and scientists. Its mission is to promote learning and research in the arts, humanities and the national and social sciences.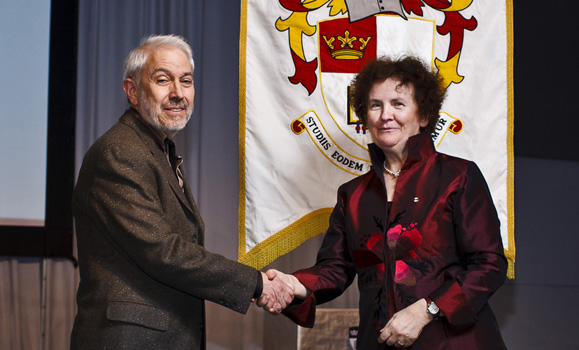 Ray Klein receives his Fellow status. (RSC photo)
Dr. Klein was named a Fellow in the RSC's Social Sciences Academy, celebrated as "a dedicated advocate, collaborator and mentor...internationally recognized for his methodological, empirical and theoretical contributions to our understanding of human attention."

"How does the brain assign attention – what grabs it, and why?" asks Dr. Klein. "That's really the core question that my lab explores."

Dr. Boudreau's scholarly interests sit at the bottom of the ocean: he was cited by the RSC for his contributions to our understanding of changes in marine sentiment, and named a Fellow of the Academy of Science.

"I'm a theoretician by trade," he says, explaining that his research primarily uses mathematical models. "We create models to describe what's changing in ocean sentiment: in biology, chemistry and physics."
Fellows support the RSC by volunteering, often by contributing to or editing its scholarly publications. While Dr. Boudreau and Dr. Klein have indicated some areas where they'd like to contribute, they both admit it will depend on how much time they have available, given their busy administrative roles as dean and department chair, respectively.

Their research programs continue as well, of course, and that means they continue to work closely with students – something of great importance to each of them.

"That mentorship is one of the most rewarding elements of working at the university," says Dr. Klein, who has five grad students and a small core of undergrads in his lab. " The give and take with students is something I really appreciate."