Karl Dilcher, chair of the Department of Mathematics and Statistics, was taken by surprise when he was announced as a new member of the President's Circle – Dalhousie donors whose cumulative lifetime giving to the university has surpassed $100,000.

"Although I'm a mathematician, I didn't expect this – I had no idea it added up to that much!" he said afterwards.

Dr. Dilcher was one of five new President's Circle members honoured Wednesday evening at a reception for donors to the university, held in the Sculpture Court of the Dalhousie Arts Centre. The event attracted more than 300 donors—from community members, to business leaders, to faculty and staff—all of whom were feted with food, drink and words of thanks from Dalhousie leaders.

"Every gift means a lot – and at every level," said Fred Fountain, Dalhousie chancellor. "The greater number of gifts we have, the greater the spirit of the university. One gift doesn't keep the university afloat – thousands of gifts at every level of giving helps make the place special."

Gifts with a lasting legacy


Many donors spoke proudly of the projects their funds have supported. Dr. Dilcher, who has given to Dalhousie since the 1980s, designates his gifts to his departmental library.

"I've always felt like the library is particularly important, and I've benefitted so much from it," he said. "As a mathematician, we don't have labs – our lab is the library"

For fellow President's Circle honouree Don Mills, president and co-founder of Corporate Research Associates, the ideal way for he and his wife to create an enduring legacy was to support a scholarship fund in the Faculty of Management.

"I have a very unique relationship with Dalhousie – I first did my MBA, then I was on the faculty for a decade, and then I was a board member. So I've seen Dalhousie as a student, a faculty member and a governor... It's really a great university."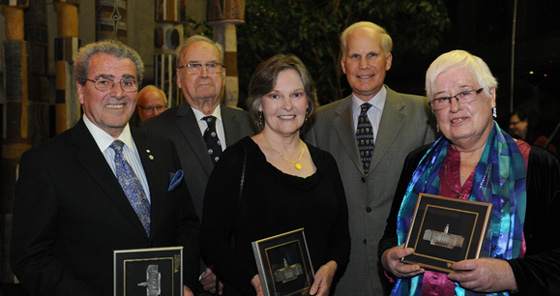 Heritage Circle honourees (L to R): Jock Murray, Andrew MacKay, Leigh Beauchamp Day, Robert (Bob) Foster, Tietje Zonneveld. (Danny Abriel photo)

Five other donors were honoured as new members of the Heritage Group – individuals recognized for including Dalhousie in their estate plans.
Leigh Beauchamp Day, a retired administrator in the Faculty of Engineering, was among them. She's raising funds for a scholarship fund in honour of May Best Sexton, the first wife of Frederick Sexton – the founder of what would become Dalhousie's Faculty of Engineering.

"She was an MIT grad in chemistry, and worked with her husband to start a technical institute for women but was shot down," explained Ms. Day, who has pledged $15,000 in her will to the scholarship. "I was inspired by her story when I discovered it, and wanted to do what I could to support opportunities for women in engineering."

In total, more than 500 individuals have notified Dal's Planned Giving Office that they intend to include the university in their estate plans, representing future gifts of approximately $70 million.

Being bold


In their remarks, Chancellor Fountain and President Tom Traves highlighted some of the work that donations to Dalhousie's $250 million Bold Ambitions campaign—currently at almost 80 per cent of its goal—are already inspiring on campus. They mentioned the transformation that will come from major gifts like Ken Rowe's $15 million to the School of Business, and the $8 million from Wallace and Margaret McCain to support the new learning commons in the Life Sciences Centre.

One area of particular emphasis was scholarships and bursaries. Dr. Traves noted that one out of every five incoming students to Dal this year had an entering grade average of 95 per cent or higher – a tremendous group of talented young men and women, but one that is putting pressure on Dal's scholarship budget, which was never designed to cope with that many stellar students.

That's where Bold Ambitions makes a difference: the university has raised $52 million thus far in endowed scholarships and bursaries, double the original target. This will mean approximately $2.5 million more each year to attract and support stellar students.

For that—and for everything else at Dalhousie made possible by the generosity of donors—Dr. Traves expressed the university's gratitude.

"Thank you to every one of you for your continued interest in, commitment to, support of Dalhousie University – our programs, our research activities, our efforts to help build a stronger Nova Scotia and a stronger Atlantic Canada and, ultimately, to our students.

"We depend on you, and I have to say, you come through for us regularly and in a fabulous way."