Teamwork. Determination. Leadership.

If you weren't already convinced that succeeding on the court can build the skills it takes to succeed in life, the second-annual Women in Leadership Dinner made that message abundantly clear.

The sold-out fundraising event—hosted by the women's volleyball and basketball Tigers and sponsored by Emera, the Harwood Group and McDonald's—took place at the University Club this past Tuesday, Dec. 6. The event celebrated some of Dalhousie's star women athletes, and also offered up candid conversations between two accomplished Dal alumni about how their athletics experience has carried through into their careers.

Worth its weight in gold

Juila Rivard, CEO of SheepDogInc.ca, Google's Canadian migration and application development partner, talked with volleyball player Louise Facca about being both an Olympic paddler and an entrepreneur.

"Business has proven to be even harder than sport," said Ms. Rivard. "I've had times in my business life when I thought I should just pack it in, when it was really hard and I wondered, 'why am I doing this?' But I think that I learned that if you just don't quit, you can take yourself so much further than you thought you could ever go."

Nominated for the Ernst and Young Entrepreneur of the Year award earlier this year, Ms. Rivard was asked about her time in sport influnced her business success.

"I'd attribute almost all of it to sport," she said, noting that she didn't give her sport experience as much credit earlier in her life as she should have.

"All of the value that I add to my business is what I learned in sport. It's hard work, determination, it's not quitting. It's getting the team to be a team. It's perseverance, it's all sport...I don't think you should ever undervalue what you're learning in sport. In fact, you should shout about it...it's worth it's weight in gold."

She then flipped the question around and asked Ms. Facca about what lessons she'll take with her when she's finished playing with the Tigers.

"I definitely think leadership and confidence are two huge things that are important," said the fourth-year Therapeutic Recreation student. "I think in order to be successful in life you have to be confident in knowing what you can achieve, and then you need the leadership to bring people along with you."

Coaching for life

Dr. Cathy Campbell won eight AUAA (AUS) titles in field hockey and track & field with the Tigers in the 1970s, and since then has gone on to a highly-successful career in sports medicine. After starting her own practice in Houston, Texas, she later became a faculty member at the University of Toronto and team physician for Canada's women's World Cup soccer teams.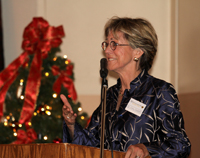 "I had a wonderful six years here [at Dal], and I loved every minute of it," she told basketball player Anna von Maltzhan. "It taught me to be a better coach...I was like a sponge, I just wanted to learn more and more."

Noting that in medicine, "I'm a coach every day," she talked about how she's worked with Type 2 diabetics and, through exercise, diet and coaching, got them off medication. "That's my Olympic moment right there."

When it came time for her to ask questions to Ms. von Maltzhan, she asked about time management – essential for any successful student-athlete.

"A lot of my friends and family make the assumption that being in sport makes it more challenging to do well in school, but being involved in sport is what drives me to do well in school," Ms. von Maltzhan replied. "The lessons I've learned—self-discipline, always wanting to improve—I carry those over into the classroom."

Earlier in the evening, Ms. von Maltzhan, Ms. Facca and all their teammates in attendance were introduced to the attendees, the crowd delivering a round of applause for their extensive accomplishments – in the classroom, on the court and in the community.

"I'm very proud of this group," said volleyball coach Rick Scott of his team. "They're a tremendous group of young women and future leaders in our community."