How much art can you make with one HB pencil? How do you capture space with a camera? How do you translate a poem to a picture?

Dalhousie Art Gallery is currently featuring two exhibits that answer these questions and question your answers: Materials and Space: A Selection of Recent Acquisitions, 2007-2010 and Second Impressions. These selections of inquisitive, investigative, and innovative artwork have been curated by Peter Dykhuis and Dan O'Neill respectively.

"Idea and follow through"


Dal Art Gallery director Mr. Dykhuis admits the name Materials and Space is "a little tongue and cheek" because "almost all artwork is about material and space in one way or another."

On one wall six large hot-pink squares of industrial chipboard hang in a row. Up close, the viewer will notice that each individual chip has been painted separately. These six pieces, each named after a skin disease or condition, are examples of concept art by Garry Neill Kennedy, an artist whom Mr. Dykhuis holds in high regard for his contributions to the Halifax art scene.

Concept art is about "idea and follow-through," explains Mr. Dykhuis. Pointing to a large block of canvas where every line of the material has been traced with pencil, he adds "the subject matter is pencil on canvas, nothing more, nothing less." The minimalist qualities of the exhibit may suggest simplicity, but the density appears as you approach each work and examine the artistic process behind it.

Space is illustrated in the exhibit in a variety of ways. Marlene MacCallum represents domestic spatial concepts with photographs of windows from inside different houses, while artist Bryan Maycock explores his family genealogy through the reconstruction of maps in the forms of footstools. Mr. Dykhuis, who has worked with Mr. Maycock's art before at The Art Gallery of Nova Scotia, is attracted by the process of "taking the familiar and making it strange though observation."

Illusionary photographs by Carl Zimmerman and Heather MacLeod question the truthfulness of photographic mediums, consequently calling other works in the gallery into contemplation.

The exhibit of recent acquisitions makes Mr. Dykhuis proud of the art that the Dalhousie Art Gallery has collected during his time as curator. "It's part of Dal's cultural heritage," he says. He also points out that designing an exhibit based only on paintings that the gallery already owns was "like a tight game of Scrabble—how many visual phrases can be made with what is available?"

The Dalhousie Art Gallery also loans artwork out to offices on campus as a way of sharing pieces with the university community, so many pieces that have previously hung in administrative and academic buildings are now displayed in a gallery setting.

Creative triad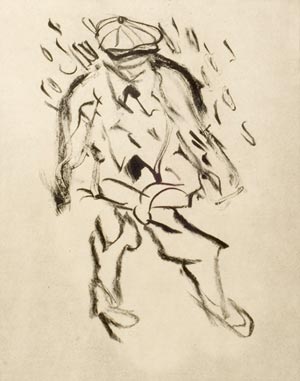 The Second Impressions exhibit is a display of Robert Motherwell and Willem de Kooning lithographs paired with Octavio Paz and Frank O'Hara poems respectively. The coupled poems and lithographs were originally part of two copies of a large book, but the pages were unbound for this exhibit by the donor. Mr. Dykhuis remarks that removing the pages from the books eliminates the temporal aspect of reading and turns the pages into a visual experience.

Mr. O'Neil, a local artist and NSCAD instructor, selected and arranged the lithographs and poetry while listening to cool jazz. He believes the music helped with his creative curatorial process because he sees the influence of cool jazz, bop, hard bop, and other innovative forms of jazz in the works themselves. "It was this observation," says Mr. O'Neil, "that led me to consider finishing the triad (of) sound, image, and word (…) since historically, they were all co-emergent at that time in American culture."

Mr. O'Neill will be giving a talk about his involvement with Second Impressions on Sunday, June 26th at 2 p.m. in the gallery.

Materials and Space and Second Impressions run until July 3. The gallery is open 11-5 Tues-Fri, and 12-5 Sat & Sun; closed for July 1st. After a closure for renovations from July 4th-August 26th, the gallery will reopen for a travelling exhibition titled Jamelie Hassan: At the Far Edge of Words.

LINK: Dalhousie Art Gallery