Dalhousie and 10 other universities are taking part in a new research program aimed at boosting the economic development of Aboriginal peoples and communities across Atlantic Canada. 
The consortium of universities will undertake a wide range of research in partnership with the Atlantic Policy Congress of First Nation Chiefs Secretariat Inc. (APC). The four-year program will develop research linked to the needs of aboriginal communities, as well as workshops to strengthen strategic decision making. Another key component is a comprehensive database that will be accessible to aboriginal communities, governments and university faculty and students.
"The program is based on that familiar saying, 'knowledge is power,'" Gerald Keddy, MP for South Shore-St. Margaret's, said Friday at Dalhousie, announcing the federal government's investment in the new program. "We know that by joining forces, we can identify innovative solutions to foster job creation and economic expansion among First Nations throughout our region."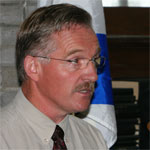 "It is a program that will both study and stimulate the conditions for economic growth in Atlantic Canada's aboriginal communities."
— Gerald Keddy, Conservative MP for South Shore-St. Margaret's
The Atlantic Canada Opportunities Agency (ACOA) and the Department of Fisheries and Oceans (DFO) will invest a total of $600,000 in the program, and the department of Indian and Northern Affairs Canada will provide $300,000. The province of Nova Scotia has pledged $100,000.
A study of the First Nations fishery and requirements for its long-term sustainability will be among the initial research projects. Other studies will be conducted on needs identified by aboriginal communities, such as assessing the success of joint venture arrangements, and evaluating the effectiveness of employment equity programs in opening up jobs for aboriginal people. 
"Economic development and education are the lifelines of our people. This research program is going to be very crucial for aboriginal people," Chief Lawrence Paul of Millbrook First Nation told the crowd assembled in University Hall. 
"The work to be undertaken will directly contribute to improving the lives of aboriginal people in the Atlantic region," agreed Chief Noah Augustine of Metepenagiag First Nation, New Brunswick. "Through partnerships such as this one, I see a lot of potential for opportunity and it can serve as a model for other regions across Canada."
Strengthening the connection between aboriginal communities and universities will enhance the quality of research and instruction in aboriginal studies, while improving access to post-secondary resources that could assist in aboriginal economic development.  
"This is an excellent example of universities working together with governments to make a positive difference," said Dalhousie President Tom Traves, who was joined at the announcement by Memorial University President Axel Meisen and staff from Dalhousie, Saint Mary's University and the Atlantic Association of Universities.
"We look forward to working together to ensure recruitment, retention and graduation of more aboriginal students, and to build the capacity within our institutions for more research into issues of importance to aboriginal communities in the region," said Dr. Traves.
Dalhousie has played a leading role in the initiative, which germinated at a conference here in 2000. Co-chairs of the new integrated research program's steering committee include APC Executive Director John Paul, a representative of ACOA and Fred Wien, who is a professor in Dal's School of Social Work as well as director of the Atlantic Aboriginal Health Research Program.
Partners also include the University of New Brunswick, St. Thomas University, Cape Breton University, Mount Allison University, St. Francis Xavier University, Acadia University, the Université de Moncton and the University of Prince Edward Island.
The APC is a non-profit organization mandated to research, analyze and develop alternatives to federal policies. Members include 37 Mi'kmaq, Maliseet, Passamaquoddy and Innu Chiefs from across the Atlantic region as well as Maine.