Five weeks from start to finish...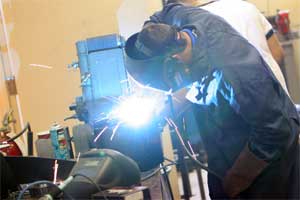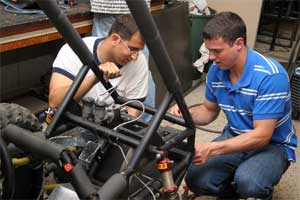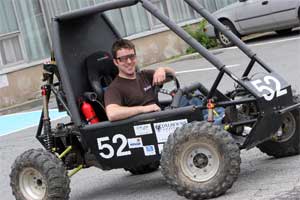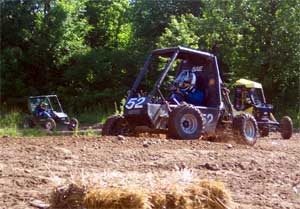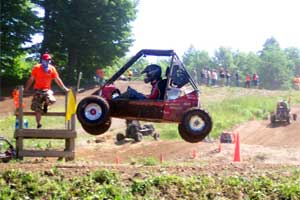 Sure, they didnÕt win. And yeah, mechanical failure was a wee problem. But a couple of just-graduated mechanical engineering students say taking the cool car they built from scratch on a wild ride ranks as the highlight of their Dalhousie experience.
ÒIt was a pure adrenalin rush, like downing seven cups of coffee before seven in the morning," says Sami Sakalla, a member of DalÕs mini Baja team which took their car to the Society of Automotive EngineersÕ Mini Baja Midwest Competition earlier this month. 
The competition, which attracted teams of students from around the world, took part over four days on a hilly, muddy track near Rochester, N.Y. Each car, a sturdy off-road vehicle built to take a bruising, was thoroughly inspected and tested for suspension, traction, maneuverability, acceleration and more. The competition was capped off with a four-hour endurance race over a roller-coaster-like course where collisions and spin-outs were part of the fun.
ÒIt was awesome, a blast," says Mike Morine, 23, another team member. ÒItÕd be full throttle down the hills. You kinda hit hard and go straight up again."
ÒYou didnÕt know where the track was most of the time," adds Mr. Sakalla, 22, whoÕs since left for Alberta for a new job. He put off his start date so he could take part.
The Dal team was plagued with a host of problems that started even before the students left. The transmission they created as part of a senior design project broke down just a week before competition. Built using an innovative design to handle maximum output from the engine, their hand-built transmission was quickly replaced with another transmission that had been standing by Òjust in case." While 10 months of work went into the transmission, a mere five weeks went into building the mini Baja car, scrounged together using recycled parts.
"11 out of 10"
It was all done on their own time: ÒWe were at school until midnight working on it. You have to be really dedicated," says Mr. Morine, from Lower Sackville.
It turned out the transmission was the least of their problems. During the endurance race, their car was towed back to the pits with a persistent steering problem and engine trouble, which turned out to be nothing more than a tiny piece of paper jammed into a needle-sized tube. But it was enough to pull them out of the race before they could finish.
Even so, Mr. Morine rates the experience an Ò11 out of 10."
ÒThe amount of technical learning is insane. It just comes at you all at once. We were learning as we were putting the car altogether. It was so great to lift something off paper and bring it to the real world."
"Talk to the Dean"
The teamÕs youngest member wants to have another go next year, even though most of the team members have graduated. Besides Mr. Morine  and Mr. Sakalla, other members include Ryan Grimm, from Bridgewater, Fenwick Jeffrey, from Weymouth, and Aziz Martakoush, from Halifax. He's going into his third year of Mechanical Engineering in the fall.
ÒIÕm going to talk to the Dean and see if we can pull a team together," says Mr. Martakoush, 20. ÒIÕd love to go again. You make so many friends and I found a good co-op contact too."