STEM Quiz Tournament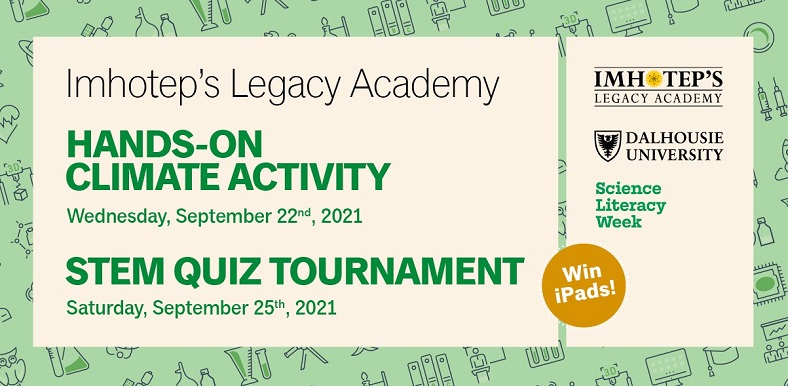 Inspired by Canada's national Science Literacy Week celebration, Imhotep's Legacy Academy has held an annual STEM Quiz Tournament since 2018.  The STEM Quiz Tournament provides African Nova Scotian junior high and high school students with an opportunity to compete in a test-of-knowledge contest on STEM (science, technology, engineering, mathematics) subjects, including biodiversity, inventions and innovations, and achievements of scientists and cultural icons throughout Africa and the diaspora.
ILA's 2021 Science Literacy Week Activity
ILA's Science Literacy Week activities will comprise two parts.  (This year's Science Literacy Week theme is CLIMATE.)

Part 1: Hands-on Climate Activity for secondary school learners! Climate Activity kits will be mailed to all registrants in preparation for the workshop so that students may follow along with ILA Mentors who will deliver the activity virtually via Microsoft Teams.  This event is scheduled for Wednesday, September 22, 2021, 6:00pm-7:30pm ADT.

Part 2: ILA will hold a virtual STEM Quiz Tournament on Saturday, September 25, 2021, 2:00pm-3:30pm ADT, via the Microsoft Teams platform. The STEM Quiz Competition will be open to junior high and high school students of African heritage who register for the event. Students may register as a team of 5 players or individually. (Individual registrants will be assigned to a team. Teams will also be assigned a Coach, if necessary.) 

Teams may be comprised as follows:
              - five junior high school students or
              - two high school students and three junior high school students.

Participants will have access to ILA's STEM QUIZ STUDY GUIDE to study topics in preparation for the competition. Question formats may include: straight answer, multiple choice, true or false, and fill-in-the-blank.

The highest scoring team (tournament champions) and the highest scoring individual (tournament MVP) will win Apple© iPads...and bragging-rights. Medals will be distributed to the top three teams and all participants will receive certificates, t-shirts and ILA swag.