News
»
Go to news main
Canada 2050 Conference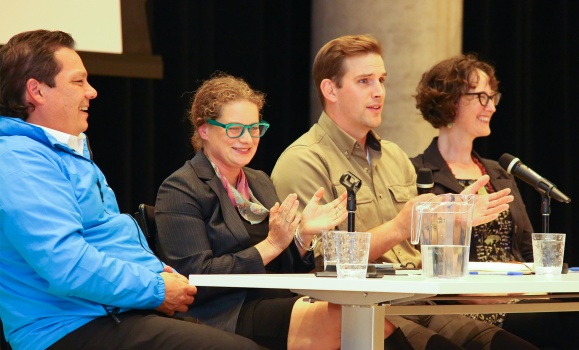 Canada's Economy in the Next 50 Years: What Do Canadians Want?
In celebration of Dalhousie University's 200th anniversary, the Department of Economics hosted two events on September 29th focusing on the theme: Canada's Economy in the Next 50 Years: What do Canadians Want? Jamie Charlebois (MDE 2012) and a group of Alumni from the Master of Development Economics (MDE) program organized the participatory conference and panel discussion.
The conference took place during the day and was comprised mostly of DAL alumni and members of the broader Halifax community. The objective of the conference was to explore what economic prosperity means to Canadians and what we collectively want the Canadian economy to look like in the next 50 years. While there was a diversity of opinions on the definition of economic prosperity, most participants emphasized the importance of balancing financial security now and for future generations. As for broad areas in need of change, in order to achieve economic prosperity now and in the future, three areas were identified: environment, equality, and education. The conference participants then broke out into groups to brainstorm solutions to the major areas identified.
Dr. Talan Iscan, Head of The Department of Economics, kicked the conference off by providing comments on the Canadian economy that helped to provide some context to the day's discussions. Ian McAllister, "Retired" Professor and founder of Dalhousie's MDE program, offered potential future directions that the conference initiative could take, as closing remarks. Those who know Ian doubt the fact that he is retired, given his tireless dedication to teaching and to his students. The organizing committee is very thankful to Talan and Ian for their steadfast support and encouragement of these events.  
A more public-facing panel discussion took place in the early evening at the new Halifax Central Library and drew around 70 audience members. An especially impressive feat given that it was perhaps the last warm fall evening of the year. The panelists were: Lisa Roberts (MDE 2004), MLA for Halifax Needham, Dale Prest (BSc'10, Environmental Science), Ecosystem Services Specialist with Community Forests International, Robert Bernard, President & CEO of Diversity Management Group, and Susanna Fuller (PhD'11, Marine Biology), Senior Project Officer with Oceans North. This diverse group of panelists shared their thoughts on the future of Canada's economy and the areas most in need of change. The panel discussion was followed by a reception that inspired further conversation, connection, and relationship building.
The organizing committee would like to thank Robert Bernard, in particular, for his participation. As a Mi'kmaw business owner of a capacity building firm, Robert was able to offer some important Indigenous perspectives; perspectives that have traditionally been absent from these discussions and that are crucial to include for the sake of our common future.
Both of these events encouraged wide-ranging debate and provided the space for exchanging diverse opinions about the future prosperity and sustainability of Canada's economy. It was refreshing to see the economy discussed as something that we have created and can therefore influence, rather than as an autonomous beast to be served.