News
»
Go to news main
Economics Alumni : Katie Tinker
Posted by
Economics
on October 15, 2017 in
News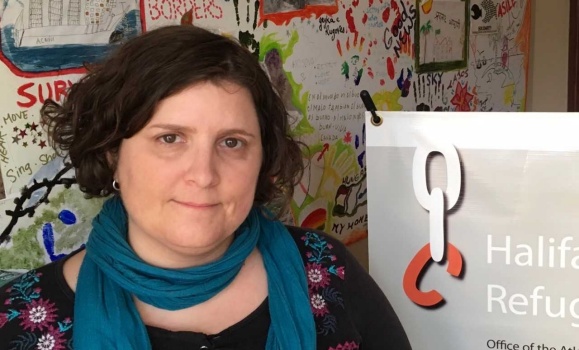 My name is Katie Tinker, and I graduated from the MDE Program in the summer of 2011.
I chose the MDE program because I wanted to work in a development-related profession. At the same time, I wanted to develop a greater understanding of the forces that shape human societies, and what leads some populations to struggle with poverty and instability, while others flourish.
The job I landed after I finished my degree was with the Halifax Refugee Clinic. It was not strictly in the field of Economics, but it was very much development-related. The Clinic is a local not-for-profit organization, established in 2000, whose mandate is to provide free legal and settlement services to people who are making refugee claims in Canada and can't afford to pay for a lawyer. In Nova Scotia, unlike in many other provinces, there is no legal aid available for immigration cases, so our tiny organization is the only place our clients have to turn. We have just three full-time staff – myself, our Executive Director and our Settlement Coordinator – so during the busier times it can get pretty overwhelming!
I started off as a Research Assistant for the legal team. My job was to gather documentary evidence to support our clients' cases as they prepared to have their claims heard and decided before the Immigration and Refugee Board of Canada. However, the small size of our organization means we all play multiple roles, and I very quickly progressed to handling many other aspects of the legal casework, alongside and under the guidance of our ED and the volunteer lawyers we work with. My title eventually evolved to Legal Case Manager.
It was a bit of a crash course in immigration law. And it was – and still is – work that can be incredibly difficult, emotionally draining and stressful. But it is also endlessly challenging and fascinating, and the people I've had the privilege to meet over the last few years have taught me and inspired me in so many different ways.
Working at the HRC took me in a direction I couldn't have predicted, and introduced me to a part of Canadian society that I knew very little about as a student. But I often reflect on how the things I learned during my time in the MDE program inform my perspective on the work I do now. As a student, I wrote papers about economic collapse, the importance of institutions in fostering stability and growth. Now, I see up close what those concepts mean for the people who endure the consequences. I see people who grew up in societies they thought were stable, and listen to them as they describe what it's like to watch the life they knew disappear before their very eyes. Some of them have lost their homes, others family members.
I find myself wishing, often, that everyone could know what I know now as a result of doing this work. With the refugee crisis becoming ever more visible in the world, we often hear about how no one flees their home unless they have to. I wish that more people understood just how true that was. I wish more people knew how hard it is to make a refugee claim successfully in Canada, and how many flaws there are in our refugee determination system, even though we have one of the fairer systems in the world. I wish they knew how much people risk and how much they sacrifice when they enter this process. And I wish that everyone understood just how much these remarkable people contribute to our society in so many ways.
If you make your home in Nova Scotia, you'll no doubt eventually cross paths with someone who was once a refugee claimant, and a former HRC client - though you may not realize it. Maybe you already have!