News
»
Go to news main
Veteran public librarian wins 2023 Outstanding Alumni Award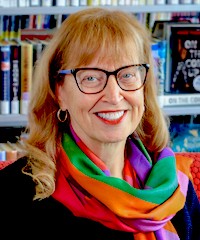 Margie Singleton (MLS'80) is the 2023 recipient of the Dalhousie Library and Information Alumni Association's Outstanding Alumni Award. The DLIAA described Singleton as a "staunch advocate, champion and ambassador for public libraries at the local, provincial and national levels," and notes her work has had a lasting impact on library services in her city of Vaughan, ON, and the profession at large.
Life in Vaughan
Located 40 kilometres north of Toronto, Vaughan is one of Canada's fastest-growing cities with a population of 325,000, up about 5% from 2016. Singleton knows a lot of planning goes into adjusting for growth, and she makes sure public libraries are among those plans. "Public libraries are essential to the health of a city," she says. "Everyone is treated equally, has the same right to privacy and the right to see themselves reflected in the materials. Libraries are an equalizer."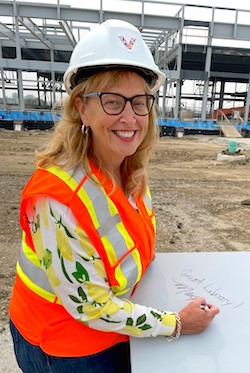 Of the 13 libraries in Vaughan under her stewardship, Singleton has overseen the design and construction of six, with a seventh under construction and an eighth in the architectural planning stage.
Library love
Singleton's love of libraries began at a young age. Her elder sister had a part-time job at their local library in Kingston when they were growing up, and Singleton remembers enjoying the atmosphere and the people in that space. She began stocking shelves at age 15, and worked in public libraries in Kingston, Barrie, Clarington and Toronto before settling in Vaughan in 2000.
A Dalhousie education
A Master of Library Science seemed like a foregone conclusion for Singleton. She laughs when she explains why she chose Dal. She was a highland dancer studying urban geography at Queen's University when she came to Halifax to support the Queen's football team. On that visit, she had already applied to the MLS program and had an entrance interview with the late Dr. Norman Horrocks, then-director of Dal's library science program. "I was impressed with him and his approach," she remembers. Horrocks placed a strong emphasis on service and taught Singleton that a library is the heart of a community, similar to a place of worship, and must be open and accessible to all. "You can have the most beautiful collection, [but] if nobody touches it, it's valueless," she says.
Service in action
And Singleton took that lesson in service to heart. For example, when the Cortellucci Vaughan Hospital opened in 2020, Singleton negotiated a space for an in-hospital VPL branch. She made sure to stock the shelves with non-medical books. "[Patients] go for respite, not to find information on a disease, although we do have some resources for nurses." In exchange for a no-cost arrangement, VPL staff do medical research for doctors who subscribe to the library's high-quality medical database.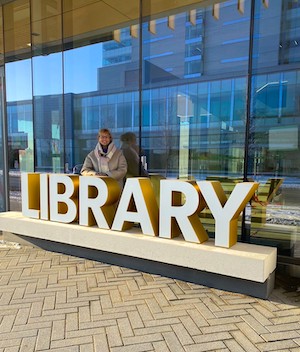 Additionally, in 2022, Singleton developed the VMC Express: a 400-square-foot space at the terminus of the subway line in a building adjacent to the bus hub. It features popular materials and a self-checkout kiosk. "You can be in and out in a minute," Singleton says. On the third floor of the same building, there's a teaching kitchen in an event space, where Singleton created a series called Kitchen Traditions. With the support of a federal New Horizons grant, seniors come in every two weeks to teach their recipes to anyone who wants to learn about cooking or culture, or just to socialize. "It's culinary literacy," explains Singleton. "There are math skills, reading recipes, and it facilitates interaction between people of different ethnicities and age groups."
Margie is also well known for her commitment to mentoring and has provided staff at all levels with many opportunities to gain new experiences and advance their own careers.
Outstanding Alumni Award
With such a legacy of service to her name, it's little wonder Singleton has won the 2023 Outstanding Alumni Award from the Dalhousie Library and Information Alumni Association. The DLIAA recognizes Singleton's strong leadership qualities, as well as her drive and dedication to public service.
Singleton has one piece of advice for current Dal library students: "Public libraries are being challenged now on intellectual freedom. Work with a library that stands up to those challenges and shares your values."