News
»
Go to news main
Q&A with Armağan Özbilge on his research into food waste and inspiring students
Posted by
Connor Dalton
on August 28, 2023 in
News
Tell me a little bit about yourself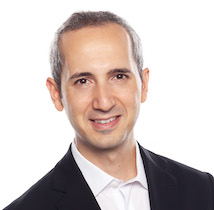 I got my PhD in the area of Management Science in 2021 from McMaster University, at the DeGroote School of Business. After that I was a postdoctoral fellow there for about two years. I'm here at Dal as an assistant professor in the area of Management Science & Information Systems. Before that I earned two master's degrees in Turkey and one bachelor's degree.
I was determined to do my PhD abroad. I knew I wanted to be exposed to a different culture. I also wanted to get a good education and learn from the experts in my field, who were mostly located in North America.
It wasn't easy to just leave the country (Turkey). I had to talk with my family and my wife. She applied with me simultaneously and got accepted at Western University for her master's program. We thought it was a signal – let's take the leap of faith and go.
What is your area of research?
In a broad sense, I've worked in sustainable operations. Right now, I'm more focused on food rescue and food supply chains. With the looming climate crisis and inflationary pressure, the world has changed quite a bit since conventional supply chain and inventory management models were first proposed. What I do is revisit those and incorporate a societal component, finding innovative ways to make operations more sustainable. My efforts are geared towards reducing food waste and combatting hunger.
One of the main issues is that when retailers donate goods, they are mostly not saleable, so there is a slim time window to collect, sort, and redistribute the goods. By the time food bank clients consume them, the donated goods are often expired or spoiled.
We hope to revisit the charitable giving corporate tax law to maybe encourage for-profit organizations to do more. For example, we can leverage existing food delivery networks to collect and deliver charitable food donations in exchange for a tax rebate. Such a system would reduce food waste and improve the capacity of food charities.
What's something about you that might surprise us?
I was very involved in the arts when I was a teenager, especially acting. At an amateur level, I was in many plays, and in many major parts during my undergrad. I think if I wasn't going to be a professor, I would probably chase that career path.
What's something that you're proud of accomplishing?
While I was choosing my PhD topic, my supervisor warned me: "Are you sure you would like to take this on because it will probably take away your opportunity of getting a job in the industry?" Plus, they said I might find some resistance in the academic environment given the fact that I'm debating the status quo, that I'm developing something opposed to it.
I said yes, I would like to have a connection at a personal level with my job. I'm proud that I've made this decision. It turned out that the world as it is now recognizes the need for such studies, and it has suddenly become a popular issue.
Why did you want to come to Dalhousie?
I wanted to come to Halifax because I've always loved the notion of being near the ocean. When I visited Halifax previously, I found it's just a well-packed city. Here, on the peninsula, you can pretty much find everything, and if you drive 20 minutes, you're in the country.
What's something that you're excited to share with the students you're about to meet?
Sometimes it takes very little to spark a change. What I would like to share with my students is that environmentally, with the climate crisis going on, there is still room to make change that can influence things.
With my courses and some of the research I do, and providing a sustainability perspective, I'm excited to convince my students that they can lead the change.