News
»
Go to news main
A new, expansive vision for empowering Black business leaders in Canada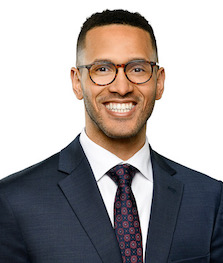 With a lifelong entrepreneurial mindset, Matthew Martel (BMgmt'14) has always been attuned to what he calls people's "pain points." He listens to their needs and strives to address them, a skill that drives his vision as the new Chief Executive Officer of Black Business Initiative (BBI) in Halifax, an organization that provides programs, supports and training for the Black community.  
He joined BBI almost four years ago after meeting Rustum Southwell, BBI's founding CEO, who was recently appointed Chancellor of Dalhousie University.
Before joining BBI, Martel completed a master's degree in Technology Entrepreneurship & Innovation (MTEI) at the Sobey School of Business at Saint Mary's University and worked in human resources and recruitment at Knightsbridge Robertson Surrette as well as for the Halifax Regional Municipality. Before he became CEO of BBI, Martel had been its Chief Operating Officer (COO).
"Rustum and I worked very closely together for so long at BBI," he says. "And he said to me, 'You're not filling my shoes. You've got your own shoes.'"
Dalhousie's Transition Year Program was instrumental in his success
Born in rural Cape Breton, Martel grew up in a low-income household, acutely aware of the gaps and roadblocks facing many people in the community. "The desire to help people has always been there," he explains of his motivations.
The Transition Year Program (TYP) at Dal, now in its 53rd year, convinced him to pursue a post-secondary education. Established to help prepare Black and Indigenous youth for academic life, TYP was "a great opportunity to consider Dal as a university but also an opportunity to integrate into a cohort that looked like myself. We all had shared experiences. The connections through that program were amazing."
Programs tailored to Black community
It was while he was a student at Dal that he first made contact with BBI. "I have always been an entrepreneurial guy," he explains. He started a few short-term business projects. One was helping women make car purchases. "I think it helped with a couple of months' rent," he says with a laugh. Another was a short-lived shipping project with another student.
BBI was helpful in giving him guidance. "It was apparent that there wasn't any other organization that would specifically have programs and services tailored to the Black community,"
The programs BBI was founded on include providing access to strong entrepreneurial role models, teaching financial literary, providing access to capital funding for entrepreneurs and advocacy.
Now in its 27th year, BBI is at an inflection point of growth as it expands its mission across the Atlantic provinces and Canada as a whole.
Progress has been made, but more Is needed
"I would never discredit progress that has been made," Martel says, "but there's still so much to do." Generational Black wealth remains unchanged, for example.
Listening to the community and identifying ways to help have resulted in several innovative programs and summits.
The Business is Jammin' charity for empowerment of youth aged 8 to 35 is one example. Through the charity's Business In program, Dalhousie has helped young people see opportunities in careers where Black participants are underrepresented, such as architecture and STEM. Potential employers are brought to campus to discuss opportunities. The university waives application fees for students who want to apply to the programs.
Another impactful BBI program has been the Supporting Black Canadian Communities Initiative (SBCCI), a federally funded multi-million-dollar effort to encourage grassroots not-for-profit organizations serving Black communities in Canada. "It's so much more successful than BBI and the federal government thought it would be," Martel says. "Our goal at BBI is expansion in a sustainable way across Canada while maintaining the quality of services to African Nova Scotians."
Since graduating, Martel has stayed connected to Dal. One way was by serving as a panelist for the Faculty of Management's Promise Scholars program (which supports Black and Indigenous business students). He spoke about the vital issues of diversity, equity and inclusiveness in businesses. Likewise, throughout the years, Dalhousie has been a key participant in BBI's initiatives. "The commitment from Dal is always to do more," says Martel.
As he settles into the CEO role at BBI, Martel is also committed to doing more. "I see the desire to help as an opportunity to make community change, to make personal change—and the freedom that comes with that," the 34-year-old says.