News
»
Go to news main
Student societies caring for the community
Posted by
Reefah Shehnaz
on June 5, 2023 in
News
The Dalhousie Commerce Society (DCS) and its umbrella societies, all led by Dalhousie business students, organized several initiatives during the 2022-23 Academic year to give back to the community . This included collecting donations and raising awareness.  Here are four of the projects led by our student leaders.
Movember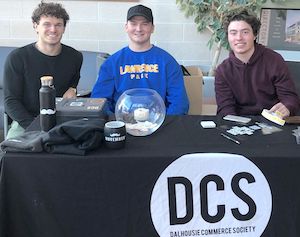 In November, the Dalhousie Commerce Society participated in Movember to raise awareness and funds supporting men's health. The team hosted events and encouraged students, faculty, staff, and community members to support the cause by donating. Those who were able to grow a mustache did so throughout the month to raise awareness of the campaign. DCS surpassed its goal of $10,000, raising $13,000 for the cause. "I can't overstate how important these resources are to young men," says DCS VP External, Michael Tough. "I know many people's mental health was shaken by the pandemic, so seeing so many students coming together (in-person) to raise funds and awareness for Movember was amazing!"
Eng vs Comm Charity Hockey Game
On March 17, the Dalhousie Commerce Society co-organized the first-ever Engineering vs. Commerce Charity Hockey Game as part of the NHL's Hockey Fights Cancer initiative. After months of planning, including seeking corporate sponsorship and promoting the event to students, faculty, and staff, the game was attended by more than 1,100 people. Together, Commerce and Engineering raised over $105,000 for the Canadian Cancer Society's Lodge That Gives. The Lodge is a Halifax facility that provides free accommodation and support for cancer patients and their families.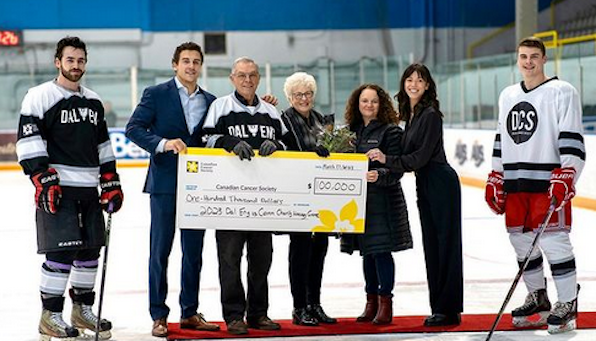 The Concept Project: Polar March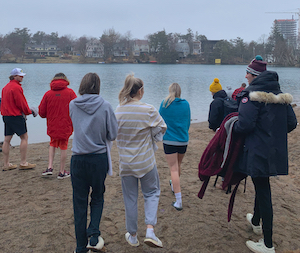 Dalhousie's supply chain society, Dal Chain, collaborated with a Dalhousie student-founded initiative, The Concept Project, during the month of March. The Polar March project involved jumping into bodies of water fully clothed every day in March (even in freezing weather!), and then washing and donating those clothes to non-profit organizations across Halifax, particularly Souls Harbour Rescue Mission. The project had a dual focus: supporting the homeless community and raising awareness of the over-production and mass consumption of clothing. More than 60 students participated throughout the month.
5 Days
The Dalhousie Commerce Society wrapped up March by partnering with 5 Days for the 10th consecutive year. During the campaign, students slept outside the Kenneth C. Rowe Management building with only the clothes on their back and a sleeping bag. Their goal was to raise awareness of homelessness in Canada while also fundraising and collecting donations for Phoenix Youth Programs (Phoenix). The students used only public facilities, counted on the public for food donations, and endured winter weather conditions, all while still regularly attending classes. Although schools across the country participate in this fundraising initiative, DCS is one of only two student groups to still participate in the sleeping outside part of the campaign.
To learn how your organization can support or get involved in the community initiatives being organized by student leaders in the Faculty of Management, contact Management Career Services to get connected to our business student societies.