News
»
Go to news main
Going the distance pays off
Posted by
Suzanne Bowness
on May 31, 2023 in
News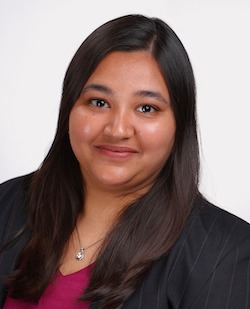 When Mansi Nishit Trivedi (MI'23) first arrived in Canada in 2021, things weren't easy.
After all, she had just made the biggest move of her life and needed to adjust.
Mansi had not only left her husband and family behind in India, but also faced challenges such as weather conditions in Canada, finding vegetarian food and Indian groceries, and figuring out Canadian culture.
The beginning, she says, was especially overwhelming. "Being far away from my family was an emotional struggle for me," she recalls.
Wanted a challenge
But Mansi persisted, venturing out to explore the campus. "I decided to try things like going to the library to study, and getting involved with the activities at the International Centre."
Mansi wasn't sure if she wanted to become a librarian in a public facility or continue working in academic libraries. With eight years of experience at academic and special libraries in India, plus an MLIS, she knew she couldn't make a quick decision.
She also kept reminding herself of why she had come. "I wanted to challenge myself to study in a competitive international environment," says Mansi. Inspired by her mother to go into librarianship, she chose the MI degree in part because it is accredited by the American Library Association. "I designed all my courses to help me to decide what I want to do after graduation," she says.
As she threw herself into her courses, Trivedi began to make friends and find her way. Although she didn't focus too much on choosing one topic or area of focus, she enjoyed a course called "Community-led Services" which helped her lean towards public librarianship.
Libraries aren't just books any longer
"One thing that inspired and touched me emotionally is the fact that public libraries in Nova Scotia and across Canada are now so focused on community needs, and designing their services and programs based on those needs. This was my favourite course," she says.
Mansi says libraries offering more community programs is a trend that has emerged since she started her career. She's also noticed an increase in hands-on learning being provided by librarians. "This field has changed a lot. This program was more hands-on, even in the theoretical subjects. The assignments and all the projects are designed in a way that students get the exposure and experience of what real life would be after completing this degree," she says.
Now that Mansi has graduated, she started a new job in May as a Technical Services Librarian at the Pictou-Antigonish Regional Library in New Glasgow.
Her husband, who found a job in the financial industry, has joined her in New Glasgow, and they are planning their next steps. She's also joined the library as it begins planning its new chapter — with a grant to redevelop the library per the needs of communities and library staff. Mansi will assist in overseeing the planning and designing of this new library and provide input. "I'm joining this position at the right time, when the library is going through a major change. I am happy to be a part of this journey."