News
»
Go to news main
Enthusiasm, engagement, and environment as a guide
Posted by
Kim Humes
on May 30, 2023 in
News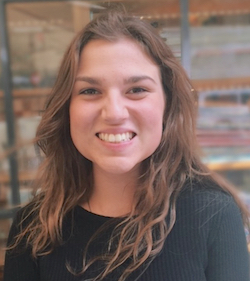 Kory Melnick speaks fondly of growing up in the village of Eden Mills, Ontario, which has the longstanding goal of being Canada's first carbon-neutral community. Watching dedicated community members lead a grassroots environmental project left a deep impression on her.
She explains how "having opportunities to learn, create, and engage with others while trying to make a positive impact have always been important for me." But until recently, she says becoming a librarian was not how she planned to do it.
Once Kory started the Master of Information (MI)/Master of Resource and Environmental Studies (MRES) program, she began to see how her various passions could converge into one career. "Libraries are not just books, they are community hubs which are often at the forefront of necessary change," Kory says. "I believe that libraries play a crucial role in helping individuals learn about the environment while empowering them to take action to help their local and global communities."
Kory has enthusiastically thrown herself into building and applying her research and program design skills, with a focus on community and the environment. She worked as a research assistant for two projects and served as the Finance Chair and Co-Chair of the Information Without Borders (IWB) conference. IWB is an annual student-led conference highlighting trends in the information profession and encouraging multidisciplinary discussion.
According to Kory, IWB was one of the "major highlights" of her Dalhousie experience. "It was exciting to plan an event as a way to give back to our faculty and the greater community," she says, adding "I gained invaluable skills and experiences from my time as co-chair which will translate into many professional roles."
Learning. Programming. Shared reading. Literacy.
Alison Brown, an Information Science instructor for five of Kory's courses believes "[e]very library should be so lucky to have a librarian with a heart like Kory. Her passion and flair for creative programming is both impressive and infectious. Kory has demonstrated a clear passion for, and commitment to, inclusive service rooted in sustainability, wonder, and equity."
Alison describes their mentor/mentee relationship as one in which "I learned so much too."
Shared stories, shared reading, and community literacy, Kory says, are important to her. She recently facilitated a Storytime for all ages at The Tare Shop (Nova Scotia's first package-free store and café) which she describes as fun, but something much deeper than that.
Kory points to research that shows shared reading can have a strong impact on early childhood development. She also says that books can be "a great way to simplify complex topics like pollution and climate change."
"The dual degree has enabled me to expand on my interests while exploring intersections that I didn't know existed," she says.  Ultimately, the program has provided a great base to a variety of career paths that I am excited to explore."
Alison Brown says Kory will go on to inspire others. "Time spent with Kory is with curiosity, authentic listening, respect, easy laughter, and invigorating discussion," adding "I cannot wait to see how she collaborates with others to build better libraries, better communities, and a better world."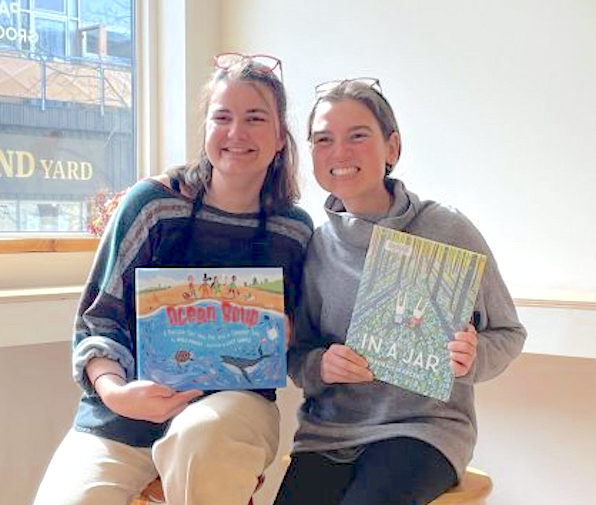 Kory (R) with classmate Claire Allély-Fermé