News
»
Go to news main
A journey from the community to the classroom and back again
Posted by
Connor Dalton
on May 30, 2023 in
News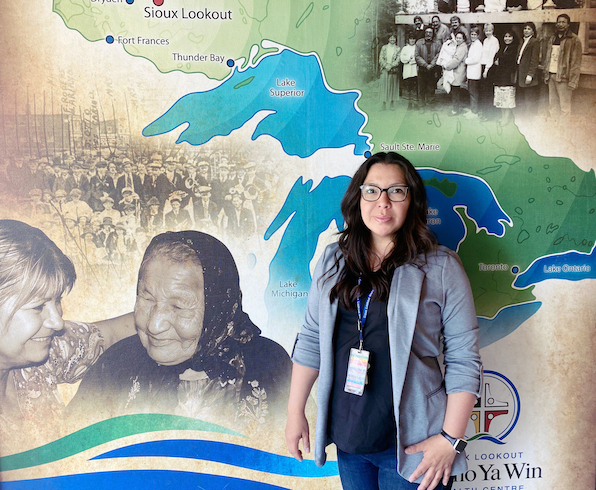 When Ramona Quequish (MPA'23) thinks about graduating this June, she smiles. She knows her family will be right by her side and she can't wait to celebrate her accomplishment with them.
When Ramona first considered a master's degree, the mother of three knew that only certain programs would work for her. Living in the northwestern Ontario community of Sioux Lookout, she didn't want to leave home to study. She says, "I didn't think it would be fair to my family."
But Ramona had "always enjoyed higher learning", so she began researching distance learning programs. She was drawn to the Master of Public Administration program at Dalhousie University. She says, "it is applicable to what I want to do, and that is to continue working not just in healthcare, but in the public sector."
Serving First Nations communities
Ramona works as the Human Resources Manager at the Sioux Lookout Meno Ya Win Health Centre (SLMHC). In the Anishinaabe language, MenoYaWin means health, wellness and well-being. At this hospital, patients can choose to integrate traditional First Nations and modern medical practices.
While not directly involved in patient care, Ramona is proud to be working at a facility providing vital healthcare to residents of Sioux Lookout and the surrounding area. They provide care and services to 28 First Nations communities, many of which are only accessible by air.
Ramona is originally from North Caribou Lake First Nation, one of the communities served by SLMHC. She and her colleagues ensure the highest standard of care for everyone, including those who travel to reach them.
Ramona feels she's grown professionally. She has enjoyed taking what she's learned in the classroom and applying it in her workplace.
Staying organized
Ramona's highlight over the course of her four-year program was coming to Halifax for in-person intensive classes. Despite the lengthy travel, she says "it gave me the opportunity to connect with other students who I might have only interacted with through online discussions."
Ramona had her third child in the final year of her program, but stayed focused and balanced her schedule to graduate on time. Previously, she had completed her Bachelor of Arts degree remotely — an experience she says helped her stay on track.
She says, "taking this program on, while working full time and parenting, the biggest challenge I faced was staying organized and using my time management skills."
Ramona is proud of having reached the finish line and now, with her MPA, is excited for what might come next. She says, "I hope that it'll bring on different opportunities that might not be there without it."