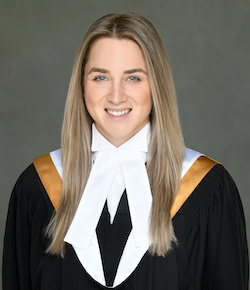 When Lauren Agnew (JD/MBA'23) worked as a recruiter, she often coached students to look beyond the typical trajectories of their university degrees. She told them to "broaden their horizons."
Lauren found joy in hearing about their hopes and helping them leverage their strengths to find fulfilling careers. And this helped her realize her next steps.
After a degree in English and kinesiology, Lauren was thinking about law. And having learned where higher education could take her, she realized that the Faculty of Management at Dalhousie could provide an opportunity to do even more than that.
"I felt like the combination [JD/MBA] would be quite powerful and would open the most doors possible," she says.
The Corporate Residency showed her how law and business fit together
After being accepted into the joint program, Lauren was required to complete an eight-month corporate residency as part of her MBA. She chose to join the team at Creative Destruction Lab (CDL).
Also based in the Faculty of Management, CDL is a non-profit organization that delivers an objectives-based program for scalable, early-stage science and technology companies. The Atlantic location is part of a 12-site global network. CDL connects participating companies with successful, experienced entrepreneurs in the community who provide mentorship.
Lauren had to adapt to working in this new role during the pandemic. She saw the transition to remote work as an opportunity to reach companies further afield and pitch to them the merits of joining the program.
She says, "it became this really incredible experience that I absolutely did not see coming, but was entirely formative."
Leslie McNabb-Kyritsis, the director of CDL Atlantic, was impressed from her first interview with Lauren. "I can remember distinctly thinking 'Wow, she's got a lot to offer'," says McNabb-Kyritsis.
Working in a fast-paced environment on a small team, Leslie admired her time-management skills and unflappable attitude. Even after Lauren's residency was over, Leslie brought her back to her CDL team. "I really saw her blossom and become more vocal over the course of her time with us," she says.
For Lauren, seeing first-hand how businesses grow sparked an interest in how she could be involved in that process as a lawyer. She says, "it really changed the way I was looking at my degree."
The MBA framed my legal career
Lauren has appreciated the diversity of backgrounds within her MBA class and how she's learned to work with classmates with different strengths. She jokes: "I don't think I knew how bad I was at math until I saw how good other people were."
She feels her biggest area of growth while earning her degree has been developing "a broader sort of adaptability. Whether that's dealing with people who are coming from different places or finding a way to weave together a unique group of people."
As she graduates this June and prepares to article as a lawyer, Lauren hopes to eventually work in the intersection of law and business. She believes her MBA will give her an advantage in that world.
"I'm realizing that the MBA is absolutely foundational and has given me a lot of the people skills," she says, adding, "I think it's framed my legal career and oriented it in a more corporate way."