News
»
Go to news main
International Student Yashvi Pathak finds quick success after studying for her MPA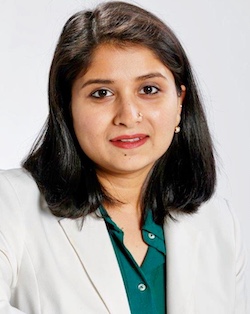 Before Yashvi Pathak moved to Canada to pursue a Master of Public Administration (MPA), she had already completed a Master of Business Administration (MBA) in India. An established professional, she'd been working for Deloitte as a tax consultant and for the Asian Institute of Technology as a finance and operations manager.
Yashvi had also worked for several large not-for-profit organizations such as World Wildlife Fund and United Nations agencies, places where she developed an interest in public administration. After some research, she determined that Canada was the best place to study because of the country's high ranking in public administration and its liberal immigration policies.
A challenge worth taking on
While looking into Canadian universities, the internship program at Dalhousie stood out. "The main selling point was the internship they were providing to the students. It was a great thing for me to get exposure to Canadian employers," says Yashvi.
Coming to Canada to pursue further education was not without challenges for Yashvi. The content and the way assignments were given were different from her experience in India. She says she received plenty of assistance from the Dalhousie community. "I used to go and meet my teachers [during office hours] and when we did group assignments my classmates were very supportive. After the first semester, I knew exactly what the professors were looking for."
As an immigrant to Canada, Yashvi has found that international work experience and degrees are not always fully recognized. "Immigrants have to establish their reputation here and show their dedication towards work suitable for the Canadian labour market," she adds.
Soft skills matter
During her internship with the Government of Nova Scotia, Yashvi built some strong relationships with her colleagues. Because they are so open to hiring immigrants with great skills, she says it was a perfect match. "It usually takes four or five years for people to move into a manager's position, but because I was able to demonstrate my work ethic, my prior experience was taken into consideration, and I climbed the ladder quickly."
Yashvi attributes her ability to build those relationships to the MPA program. She remembers a professional development program focused on soft skills that was extremely helpful, especially to a newcomer to the Canadian workforce. "Soft skills are very useful. You learn how to talk to people and make eye contact, how to frame your answers during interviews."
The MPA at Dalhousie set me up for my PhD
Now working on her PhD, Yashvi looks back at her time at Dalhousie fondly and feels it prepared her well for the future. "I can see the difference (now) and I find the professors at Dal are so research-oriented, they are so thorough, and the assignments are so relevant," she explains.  "My PhD is very easy because of the MPA program I completed at Dalhousie."
Working in public policy may not appeal to everyone, but Yashvi sees it as an opportunity to continue to learn and explore new industries. "Because we are the ones who make sure that all the policies the government is planning and implementing are based on the best standards, I have to keep myself updated to audit them," she explains. This is something she is passionate about: "I must keep up with the trends [and the] latest technology. I even had to do some IT-related audits, which gave me [insight into] cyber security and cyber awareness. So, every day there is a new policy, and I must be up to par with it."