News
»
Go to news main
Getting to know your staff: Michelle Hunter
Posted by
Shatakshi Sameer Gambhir
on March 21, 2023 in
News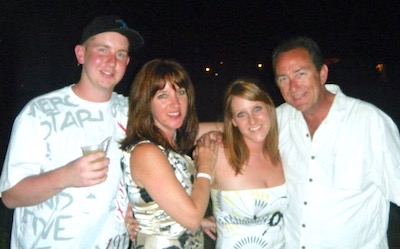 This month, we have the pleasure of introducing you to one of our longest-serving members, Michelle Hunter (pictured second from left with her son, daughter and husband). She is the acting director of the Centre for Executive and Graduate Education. Michelle has been part of the Dalhousie community for 30 years now, having started at the Technical University of Nova Scotia (TUNS) in the registrar's office before moving to financial services. In 1997, when Dalhousie University and TUNS merged, she transitioned to the financial services department here. She held different positions, working in accounts payable and student accounts. It was 1999 when she joined the Faculty of Management, leading the MBA Financial Services Program. Since then, she has consistently worked on growing the online-blended graduate programs.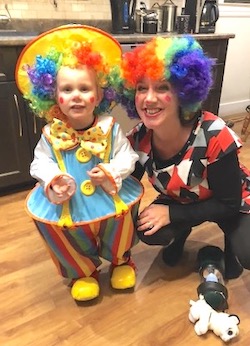 Over the course of her professional journey, Michelle has witnessed the tremendous growth of Dalhousie University, including milestones such as the merger with the Nova Scotia Agricultural College and the establishment of Dal's Agricultural Campus. She feels extremely proud and fortunate to have been able to support the significant development of the online blended programs for the past 24 years. Michelle and her team have played an integral role in the success of these programs. Initially, they focused on a niche audience, but with new modes of delivery they have been able to reach a much larger one. These programs are not only more interactive, but they also provide more opportunities for individuals to continue working as they study. Michelle's typical workday involves connecting with colleagues to discuss operations and planning of the programs. She is grateful for the relationships she has built with her mentors, colleagues, and peers over the years; all those wonderful people have impacted her life in some way. One of her greatest mentors was Joseph MacDonald, then director of the MBA program. His mentorship laid the foundation for quality support to students. She also credits the influence Martine Durier-Copp and Kim Brooks have had with their work ethic and enthusiasm.
Guiding the students through their courses in these programs is the most rewarding part of her job, but it has its own challenges. Michelle continues to build relations with decision-makers so she can influence change. The goosebumps she feels at convocation makes all the hard work worth it. Being part of the celebrations and successes of her students gives her immense joy. Michelle has always wanted to work in a field where she could make an impact on people's lives. When she was young, she wanted to be a guidance counsellor for teenagers to help them navigate the important decisions they face. Even now, if she had to choose another job, she would happily work for the Red Cross.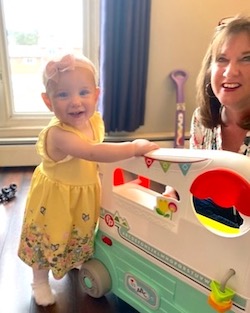 Even though she is an ambitious woman, Michelle (pictured above with her grandson and right with her granddaughter) firmly believes in maintaining a work-life balance. She considers her personal relationships to be her support system, and family and friends the most important people in her life. She lives by the motto, 'Do not work so much that you miss out on the important things in life' and we could not agree more. In summer, Michelle enjoys kayaking and gardening with her husband while, in winter, not being a fan of the cold, she plays boardgames with her family. Her family describes her as a woman who can do both — from being a lumberjack to being the most professional woman wearing heels in Toronto.
Travelling has always been her passion. Michelle was born in New Brunswick and raised in Nova Scotia. She enjoys living in Halifax and being close to her family. Although she loves to travel all over Canada, her all-time favourite place to visit is Newfoundland for its breathtaking scenery. She loves the fact that all the provinces in Canada are so different from one another. Cuba and Antigua are her favourite southern locations because of the very kind people she has met there. She hopes to go on a trip soon and the top destination on her list right now is Europe.
To a new staff member, Michelle emphasizes the importance of relationships and meeting people to learn about their professional backgrounds. She suggests taking advantage of the incredible educational and professional opportunities available at Dalhousie University. She joined TUNS expecting to be there for just five years. Little did she know that the opportunities at Dalhousie would make it feel like home, and she would want to work here indefinitely.