News
»
Go to news main
Student athletes shine at Academic All‑Canadian Awards
Student athletes from the Faculty of Management had a strong presence at this year's Academic All-Canadian Awards. Of the 154 awards to Dalhousie students, 32 were to students studying in management. The awards are presented annually across Canada to student athletes who maintain a GPA of 3.5 or higher and compete in high-level sport for their university and/or for provincial and national teams.
Recreation Management student Alex Carson was one of eight top Academic All-Canadians for 2021–22 in Canada. An alumnus of the faculties of Management and Health, Alex was honoured by Her Excellency the Right Honourable Mary Simon, Governor General of Canada, at Rideau Hall in the nation's capital. Read more about his story.
You get your work done between games on the road in the car
These student athletes juggle the competing priorities of their courses and assignments, training and game schedules and the expectations for success in both.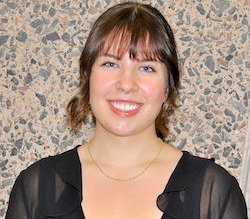 Sadie Pinksen (left), who competes on Dalhousie University's women's curling team, says there are many small inconveniences that most people would not think about. A management student from Iqaluit, Nunavut, Sadie helped lead the team to an Atlantic University Sport (AUS) championship last season and has represented her Territory of Nunavut on several occasions at the Scotties Tournament of Hearts.
"It makes everything a little busier; being a student athlete comes with a lot of commitment. I am sure many student athletes, like me, play not only for Dal, but also for other teams. There's a lot of getting work done in the car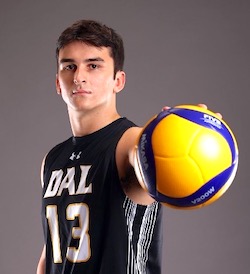 between games. But faculty, professors and TAs understand the demands and are super supportive," she adds.
Justin Cross (right), a management student and captain of last year's men's volleyball team, says he and his teammates travelled to Quebec at least three times last year, which meant very long bus rides. He says those 14-hour rides were time he would have spent on schoolwork, adding, "It is safe to say I had some late nights at the Killam."
You carry your whole life with you at all times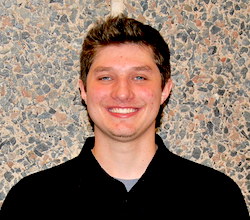 Adam Sellan (left), a recent Bachelor of Management graduate from Toronto, played four seasons on the men's basketball team at Dalhousie, which won three AUS Championships titles in that time.
"A challenge was always having all your textbooks in your backpack because you would go out for the day, bring everything with you to class, eat lunch while studying, and just having to carry your whole life around with you at all times. I can remember times when I would leave at 8am and not be back until midnight," says Adam.
Despite the enormous time commitment, Sadie says the competing priorities of sport and study can be very beneficial. "When I look back, having the outlet of sport can create a nice work-life balance, so in that sense it probably helped my academics," she adds. Justin agrees that the challenges come with their benefits. "In the long run I think this experience will benefit me as I am used to high-pressure situations," he says.
Adam says he relies on his teammates and close friends for inspiration. "It really did feel like it was another entire course load, so it was stressful at times when you would see your peers with a lesser schedule. It is a lot of sacrifice, but it helped having the community of athletes and go through it all together," he says.
Benefits outweigh the struggle
Adam says it helped having a roommate who was also on the team. "We could motivate each other, so the peer network was really important."
Balancing the challenges with the love of sport can be intimidating, but many of these students would do it all over again and hope to continue to be involved in sport after graduating from Dalhousie.
"I will continue to be an athlete, as well as coach and give back to the sport. I think my degree in management prepares me well to do that, which is exciting," says Sadie.
Adam agrees. "I love working with youth and teaching basketball at more of a fundamental level; it can be really fun to reconstruct the game, so I definitely want to coach, but also explore other sports, more for fun and less for competition."
All three award winners agree that the benefits outweigh the struggle.
Full List of 2021–2022 Faculty of Management Academic All-Canadian Award Recipients
Joel Caloz
Callum Campbell
Katie Crombeen
Justin Cross
Brett Crossley
Jasmine Delima-Baril
Josh DeYoung
Quinton Dowling
Benjamin Gory
Aidan Goslett
Matt Green
Jack Hanley
Ahmed Haroun
Taylor Heard
Christian Huntley
Aiden Jamieson
Callum Legge
Noah Mascoll-Gomes
Shaun Miller
Cole Mitchell
Adam Murphy
Gabrielle Noordijk
Keana Oshowy
Campbell Pickard
Sadie Pinksen
Nick Pryce
Kevin Resop
Daniel Rosen
Adam Sellan
Keevan Veinot
Katie Woutila
Kyle Yewchuk