News
»
Go to news main
The Faculty of Management celebrates excellence in teaching

Samantha Taylor, Anika Cloutier and Alana Westwood, winners of the 2022 Faculty of Management Teaching Excellence Awards

It's unusual to see professors tear up, particularly in front of their students, but there was no shame about the tears that fell during this year's presentation of Teaching Excellence Awards.
Award winners Anika Cloutier, Samantha Taylor and Alana Westwood, and an audience of their colleagues and family members, listened to students explain why they nominated these candidates. And the heartfelt remarks had the winners reaching for tissues.
Chezarina Mehta, who first met Dr. Cloutier during the Covid-19 lockdown, described just how important it was: "You [Anika] let us speak about whatever we wanted." Chezarina says Dr. Cloutier became more than a professor, she mentored and supported her during a difficult time—a mentorship which has continued.
Chezarina proudly announced the advice Dr. Cloutier gave her before a job interview was invaluable. Next month, Chezarina begins a full-time position with the company. Dr. Cloutier responded by saying, "I very much care about the students I'm talking to… They matter now, but they also will absolutely matter in the future."
When introducing Samantha Taylor, former student Bre Peletier said students see Instructor Taylor as a role model. "She values personal and professional development and pursues excellence in all that she does," which according to Bre inspires the students to work even harder.
In introducing Alana Westwood, Mercy Fiamavle said she carefully considers the work she assigns to students. "Every one of our assignments is geared towards the development of a professional skill or set of skills," and that's something Mercy says many professors don't consider.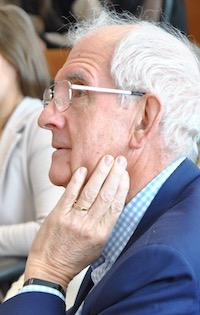 Both Professor Westwood and Instructor Taylor noted that they're able to go the extra mile because of the support they feel from their colleagues in the faculty. Dr. Westwood also pointed to her father, Dr. Richard Westwood, who's visiting from Winnipeg, as her inspiration. She watched how he interacted with his students while she was growing up, and says it left an impression.
Bill Black (BA and BSc '70) (pictured left), who established these awards, says students need to always be at the forefront of deciding who receives them. A former member of Dalhousie's Board of Governors, he remembers  the conversations he had with his daughter Renee Black (BComm '99) while she was attending Dalhousie. They often talked about the wonderful professors and, he says laughing, 'the other professors'. And what's stayed with him is that those wonderful professors were not getting the recognition they deserved. Which is why, he says, he set up these awards and why he believes they matter.

He also told the winners he'd be disappointed if they spent the award money on something practical and encouraged them to do something special for themselves.