News
»
Go to news main
The Adopt‑a‑Family initiative supports more people than ever
Posted by
Sonya Jampolsky
on January 9, 2023 in
News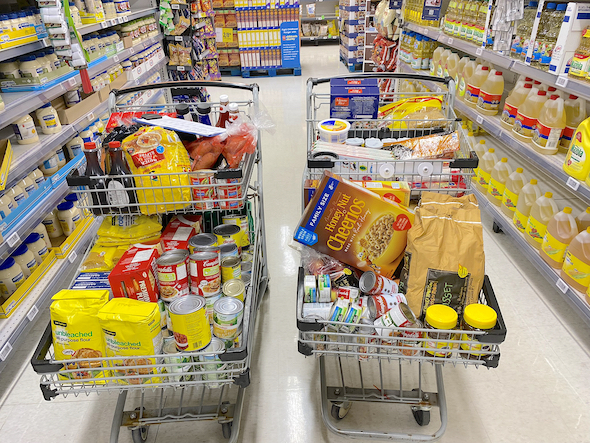 Even though the fall fundraising initiative organized by Jennifer Ziobrowski in the Faculty of Management is complete, eight families are still benefitting from what's become a faculty tradition. Jennifer is optimistic the items purchased with the donated dollars, like toilet paper, pasta and laundry detergent will last each family for at least four months. And along with these supplies, she's hoping there's a reprieve, even if just temporary, from the stress of not being able to afford the basics.
What started five years ago as an offer to adopt one family through the Angel Tree Food Bank in Enfield, Nova Scotia, has grown substantially. Ziobrowski says the generosity of 44 of her colleagues meant she was able to purchase necessities and gifts for four families, while another colleague, who wants to remain anonymous, supported four more families. The total number of people helped this year is the largest to date at 34.
Every dollar is stretched
"When you look at these lists and see what people are asking for, it does put into perspective just how much people are struggling," she says. And as her colleagues have noted, Jennifer goes above and beyond to help.
Even though there's no obligation to purchase every item on the lists submitted by each family, Jennifer makes sure it happens. Jennifer Oxenham, one of the contributors, is amazed by the effort being made "to stretch every dollar so she can buy them as much as she can to help them, not just with the items they ask for but extras like stocking stuffers and extra groceries."
Jennifer Ziobrowski makes this happen by starting to shop early and keeping her eye out for deals. Using a detailed spreadsheet, she assesses and re-assesses how much she can purchase as the donations come in.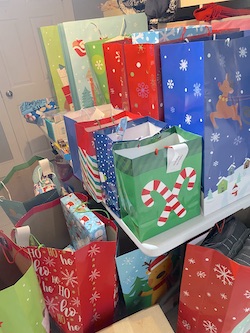 Mindful about fulfilling the requests of each family, she's equally aware of the contributors. "It's no small thing that people feel comfortable that I will spend their money wisely," Ziobrowski says, adding some of the contributors like to pick items off the lists to purchase themselves.
One individual, she says, donates points from a rewards program. Jennifer holds onto the points waiting for special events when the redemption value is even higher.
"You feel a little less helpless."
Jennifer Oxenham says she was overwhelmed when she saw the quantity of items bought and then wrapped for these families. She says she "loves and looks forward to helping out any way I can. For me it is a very hands-on experience. I feel like my help is making a difference." (Pictured right: Ziobrowski's laundry room)
One reason Jennifer Ziobrowski thinks more and more people in the Faculty of Management are participating is because they know exactly where the money is going, and none of it gets caught up in administrative fees.  
She says, by doing this "you feel a little less helpless," adding "I will always be happy to coordinate it as long as people are happy to participate."