News
»
Go to news main
Christa Big Canoe, Scotiabank's 2022 Ethical Leadership Award recipient, tackles injustice through storytelling
Posted by
Sonya Jampolsky
on October 17, 2022 in
News
Warning: This article contains a reference to sexual violence.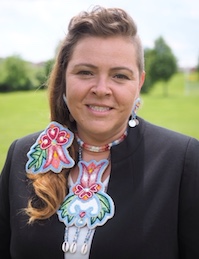 Christa Big Canoe, recipient of this year's Ethical Leadership Award, introduces herself as a mother and a lawyer. But you don't have to speak with her long to notice that beyond these labels is a changemaker. Ms. Big Canoe, the 2022 Recipient of Scotiabank's Ethical Leadership Award, will be honoured at the Ethics in Action Gala on November 5. The gala follows a two-day case competition with teams from across Canada and the United States.
Known for her role as Senior Legal Counsel for the National Inquiry into Missing and Murdered Indigenous Women and Girls, Ms. Big Canoe has devoted herself to rerouting centuries of deadly and discriminatory action toward Canada's First People. Her approach is to find systemic changes to systemic problems. And her vision for change is rooted in storytelling.
Christa Big Canoe was in the headlines when she represented six of seven families of deceased Indigenous students at the Seven Youth Inquest in Thunder Bay, Ontario. In 2017 she was named one of the top 25 most influential lawyers in Canada. Last year, the Alnoba Lewis Family Foundation gave her an award for being a "daring woman leader committed to advancing gender equity while demonstrating the moral courage, tenacity and guts needed to bring about equality."
We know that cultural practices are protective and preventative
For more than a decade, as Legal Director of Aboriginal Legal Services (ALS) in Toronto, she's driven change in how Indigenous people are received when they enter the legal system. Instead of seeing those who use ALS as clients, she describes them as members of her community, and ALS as their home. "We know that cultural practices are protective and preventative," she explains, adding: "we know that when people can be in their communities, they thrive and do better."
But this, she admits, can be complicated. There's one story that has remained with her since law school when she flew into northern communities as a Deputy Clerk of the Court for the Northwest Territories. Ms. Big Canoe remembers a 13-year-old girl, facing minor charges, who was belligerent to the judge. The judge threatened to send her to Yellowknife if she didn't behave. Ms. Big Canoe says the 13-year-old told the court she was "gonna keep committing crimes until you get me out of here. I'm the only girl my age that hasn't been raped by multiple men at some type of party."
We need to share our narrative
Whatever the story, Ms. Big Canoe says, "we [Indigenous people] need to share our narrative. That's part of our healing process, getting all the truth out. And if you don't get all the truth out, then you're starting from a premise or a point where you can't actually go back and heal."
Storytelling doesn't just heal; she knows it helps educate. When she developed curriculum for Aboriginal Cultural Competency Training for staff in the legal profession, she discussed the tough truths of Indian residential schools. In one session, held at a former school, she says participants were so distraught, they needed to debrief. A common refrain was, "I lived 10 kilometres from a residential school, and I never knew it was this bad." The debrief was an opportunity to acknowledge harm but also to heal.
During the two and a half years she oversaw the MMIWAG National Inquiry, Ms. Big Canoe and her colleagues collected testimony from more than 2,000 individuals. The final report contains many of those stories and is only a glimpse of the horrors presented to the Inquiry.
When the remains of 215 bodies were detected on the grounds of a former residential school in Kelowna in 2021, Christa Big Canoe was angered by the response of Canadians. She says after all the testimony and publicity around her inquiry and the Truth and Reconciliation Commission, she wanted the press to "please stop using the number 215 because we already know there's probably 20,000."
Some tough truths
Her perspective has since changed. She says Kelowna reinforced what First Nations' people experienced, adding, "There's some tough truths, but the reality is, once you know, you cannot unknow. So, all the knowledge and all of these truths I'm sharing with you, they're a gift." It's up to all of us, she says, "to decide what are we going to do with that gift".
Surprised to be nominated for the same award as one of her heroes, Former Supreme Court Justice Rosalie Silberman Abella, who won in 2017, she says change comes from systemic approaches. "And the only way we do that is by building relationships."
Kim Brooks, Dean of the Faculty of Management, says Christa Big Canoe represents everything the award is meant to embody. "It is significant to me that we're celebrating our final Ethical Leadership Award by acknowledging the extraordinary contributions of Christa Big Canoe. She has been relentlessly committed to justice and community building. I know that she will be an inspiration to this generation of students."
Reflecting on her role as a mother, Ms. Big Canoe can't help but reference her family, and in particular her father, who kept her community's talking stick for years before passing it on to the next storyteller. As her son and daughter enter adulthood, she says she knows they're steeped in stories of their ancestors and in their culture. And they're supported by many. It's what she wants for all Indigenous people, who she describes as "beautifully resilient."
The Scotiabank Ethical Leadership Award recognizes a Canadian leader from a corporate, non-profit or public organization who has demonstrated and maintained outstanding ethical leadership. Past recipients are Ruma Bose, Sir Graham Day, Roméo Dallaire, Phil Fontaine, Richard Pound, Irwin Cotler, Anna Tudela and Justice Rosalie Silberman Abella. The public is invited to the award presentation at the Ethics in Action gala in Halifax on November 5, 2022. Tickets can be purchased on our Eventbrite page.