News
»
Go to news main
A Faculty of Management team brings home top prize in international competition
Posted by
Sonya Jampolsky
on October 5, 2022 in
News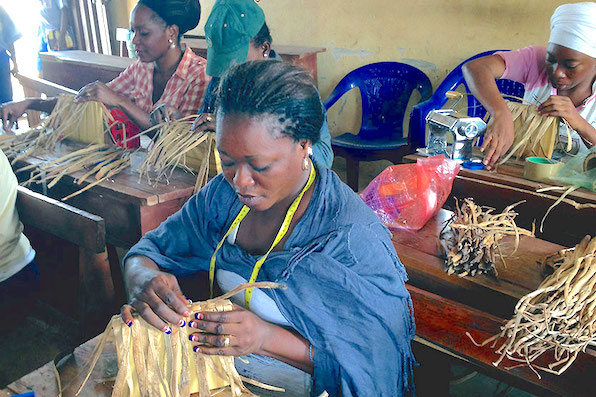 A team of four students from the Faculty of Management have distinguished themselves and their professors by winning a top prize in the international Aim2Flourish competition. The published story written by Youseef ElTazy, Chuhan Zhou, Abdulganiyu Onabanjo and Samuel Miorino was chosen from almost 700 others for highlighting Nigerian business MitiMeth which supports number 8 of the United Nation's 17 Sustainable Development Goals (SDGs).
Professor Kent Williams, who incorporates the competition into his course on business ethics, says that "this is a brilliant accomplishment. They took on this challenge at a global level and really showed their stuff, competing with the best."
Organized by Case Western University in Cleveland, Ohio, the Aim2Flourish competition picks one story that best represents each of the 17 SDGs. Goal number 8, for which the team won top prize, is Decent Work and Economic Growth.
Abdulganiyu Onabanjo introduced his classmates to MitiMeth, a Nigerian company that weaves household items like rugs and lamps from the water hyacinth. He told them about travelling across the Third Mainland Bridge in Lagos in 1999 and seeing "clusters of hyacinths everywhere. The shipping boats, the cruise boats, were stopped. They couldn't go anywhere for days."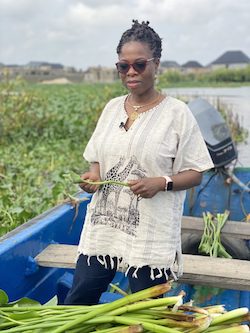 Water hyacinth, he explains, is an invasive species with a devastating impact on transportation, fishing and the use of hydroelectric power in his home country. Abdulganiyu says Nigerians blamed the government for not controlling the growth of the hyacinth, and wanted to champion businesswoman Achenyo Idachaba (pictured right), who owns the company.  
Born in the United States, Achenyo moved back to Nigeria and started the business from scratch. The idea, Abdulganiyu says, was born out of wanting to help solve a problem. "She didn't know how to weave," he says, so she went to Hausa tribespeople to start at the beginning.
Professor Williams says learning how to apply sustainable development goals (SDGs) is not just an academic exercise...it is real world. Often, our students have a dystopian world view, he says. "You see everything happening—pandemic, climate crisis, drought, war. So, often many of these emerging leaders do not have hope for the future. But what we find is when they learn about the SDGs, planetary boundaries and Indigenous frameworks, they start to understand that they can make a difference––to co-create the world anew."
Abdulganiyu Onabanjo is proud of this win. Currently running his own start-up focussed on a gadget that helps save energy, it's not just the bragging rights he's gained. He says it's seeing sustainable development goals in action, so he can incorporate them into the product he hopes will be on the market soon.