News
»
Go to news main
Getting to know your staff: Lori Bauld
Posted by
Yitong Liu
on September 8, 2022 in
News
Lori Bauld is the development officer for the Faculty of Management. Before accepting this new role, Lori had held two different positions in the faculty over the past 13 years. With a great passion for student engagement and career-supporting work, she started as a career and recruitment specialist in Management Career Services helping students looking for careers in accounting and consulting. She then took an alumni position in 2019. "All of these roles provide me great opportunities to connect with the students once they've graduated and follow their career progression."
Lori grew up in the east end of St. John's, Newfoundland, a spectacular and beautiful place that is now a thriving cultural hub. She dreamed of being a professional tennis player when she was a child and has played competitive tennis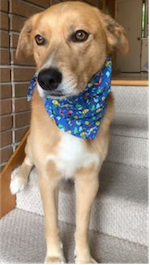 since the age of ten and travelled across Canada and the U.S. as a nationally ranked player. She was on the NL Canada Games team twice and has also coached it. Those unique experiences cultivated Lori's ability to engage with people in different ways and she carries those skills into her career every day. Lori also enjoys cross-country running and completed her first marathon at the age of 29. Running has already become an irreplaceable sport for her to relax and socialize with friends. Every weekend morning, her "walking ladies" group meets at Long Lake for hikes with the dogs (pictured right: Skout, age 5).
Before coming to Dalhousie, Lori earned a postgraduate diploma in computer science and was a recruiter for an IT consulting firm for nine years before moving on to manage an engineering staffing firm for four years in Atlantic Canada. For a short time, she was a veterinary sales rep selling products and surgical equipment, which she loved as she was able to bring her dog along on road trips.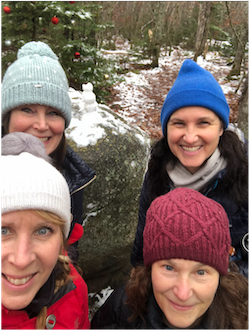 When talking about her current role in Dal, Lori says, "It is a development role, and what I like about it most is that I have the ability to be proactive on things instead of being in a reactive environment." Working with some incredible faculty members, assisting the advancement and alumni team, and fostering relationships with current students, recent graduates and alumni all make Lori fulfilled. "There's no typical workday for my role!" Lori and her team members must come up with optimal strategies, deliver high-quality conversations and bring meaning to alumni and donors in a fast-paced environment.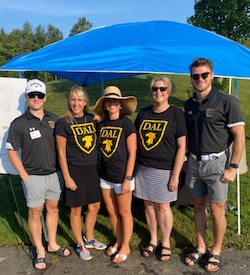 Lori hopes that in the next two decades the world will become more cosmopolitan and free from racial intolerance. "I've noticed with my kids as they've gone through school, they've had exposure to and experience with various different cultures and people. And I hope that as society continues to evolve, that will become the norm." Currently, Lori is working on the Atlantic Promise Scholars Initiative with all business schools in Atlantic Canada, which she hopes will provide more opportunities for Black and Indigenous students. "Although this is only a small part of promoting racial and cultural equality, I believe it's a great place to start." (Pictured left: Lori & co-workers at the Dal golf tournament)