News
»
Go to news main
Q&A with Justin McManus on his return to Dalhousie University
Posted by
Sonya Jampolsky
on August 23, 2022 in
News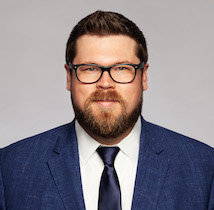 Tell me a bit about yourself.
I was born and raised in Ottawa, and I did my undergrad at Carleton University. I developed a passion for research while working in the Carleton Gambling Lab. This was an incredible experience not only because I gained an appreciation for the complexity of addictive behaviours but also because I had the opportunity to run lab studies in a virtual reality casino. I then did an MSc at the University of Guelph in Marketing and Consumer Studies where I developed a broader interest in consumer psychology, which led me to pursue a PhD in Marketing
What's your area of research currently?
I think there's an anti-consumption movement out there that only views consumerism as something that detracts from people's lives. I'm trying to take a different angle on consumption and look at how people can learn and grow through some of these experiences. A lot of my work looks at self-development; how do people develop their sense of self by learning about consumer products. For example, one way people experience self-development is when they learn about something they're truly passionate about. Maybe you're an artist, an athlete or a gamer. The products involved in one's hobbies—be it a new guitar, golf club or graphics card—are things we enjoy learning about, and it is this learning that my colleagues and I believe can play a role in self-development. Some of our experimental evidence further suggests that this type of Consumer Self-Development also plays a role in meaning in life, among other metrics of well-being.  
What are some of your passions?
I'm a tennis coach certified through Tennis Canada. I'm an amateur drummer and guitar player. I also love cooking. My partner is Indian Canadian and she's a cultural psychologist. We're very interested in learning about cooking and cuisine from different cultures. We're also pet parents to an opinionated Shiba Inu. 
What are you proud of accomplishing?
The easy answer would be doing a post doc at Duke at the Fuqua School of Business. That was an enormous accomplishment because the academic journey for me has not been straightforward. There have been a few different setbacks along the way, and so being able to have an experience like that was very humbling. I'm working through some of the impostor syndrome of being in those situations and doing some growth of my own.
What is something you're excited to share with students?
I'm really excited to share and teach research methods. During my PhD at Dalhousie, I ended up teaching a research methods class. Theory classes are excellent and provide a framework and a structure, but what I really love about research methods is that they provide tangible skills the students can then craft their résumé around, and that they can use to really sell themselves to future employers.