News
»
Go to news main
Getting to know your staff: Ayşe Dai‑Gammon
Posted by
Yitong Lui
on May 10, 2022 in
News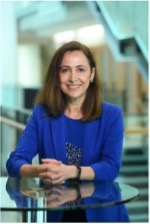 Ayşe Dai-Gammon is the Employer Development Manager at Management Career Services. Ayşe (pronounced Eye-shay) joined Dalhousie University in 2011, and has been in this role for 11 years.
Ayşe was born and raised in Gaziantep, Turkey, until she moved to Istanbul to study law at Istanbul Unıversity School of Law and pursue a career as a corporate lawyer. Ayşe's hometown is located in Southeast Anatolia and close to the Syrian border. Although it was much affected by the war in Syria, Gaziantep is a charming city, well-known for its authentic cuisine,  rich history and culture. It attracts many visitors to enjoy the local cuisine—a rich variety of kebabs and baklavas—and visit Zeugma, the world's largest mosaic museum, featuring over 2,400 m2 of Roman and Hellenistic Greek mosaics.
Before coming to Canada, Ayşe worked as a corporate lawyer for 15 years, focusing on major foreign direct investment projects in Turkey. She moved to Canada for spousal reasons and pursued diverse careers that included supporting immigrant professionals, fostering innovation and entrepreneurship in Atlantic Canada, and contributing to the re-structuring of a provincial court in Nova Scotia.  
Ayşe and her husband, Mark, (pictured) are both avid sailors, and enjoy sailing their boat Merlin when they can take a break from their never-ending boat repair and construction projects! It became a tradition to sail their boat on January 1st to celebrate the New Year on the water with a few friends, often by breaking the ice in frigid conditions. Ayşe also enjoys practicing yoga (some may be surprised to learn she is a certified hatha yoga instructor), travelling and learning about different cultures and languages. To expand her language repertoire that already includes Turkish, English and French, Ayşe recently began studying Spanish.
At Management Career Services, Ayşe and her team members play an important role in developing strong partnerships with employers from across Canada and helping students launch their careers. Even students often may not realize that an employer development team exists; the team works very hard behind the scenes building career connections for students.  One of the most rewarding aspects of Ayşe's role at Dalhousie is to hear the success stories of students and recent grads from employer partners and observe how students flourish, mature and grow over time. The least favourite aspect of Ayşe's job is to hear about co-op work term–related issues. Luckily, this is not a huge percentage of her time and provides an opportunity to learn and improve for everyone involved.
When Ayşe is asked about what she hopes is different about the world in 20 years, she is quick to respond that she does not want to wait for 20 years and that "The world needs immediate action for peace to save lives and tackle climate change NOW! We owe this to humanity, our planet and the next generation." Ayşe hopes that everyone will do their part to create a sustainable and peaceful world and an inclusive society free from poverty, tyranny and discrimination.