News
»
Go to news main
Grad profile: Shaping her future, one connection at a time
Posted by
Kim Humes
on June 1, 2021 in
Students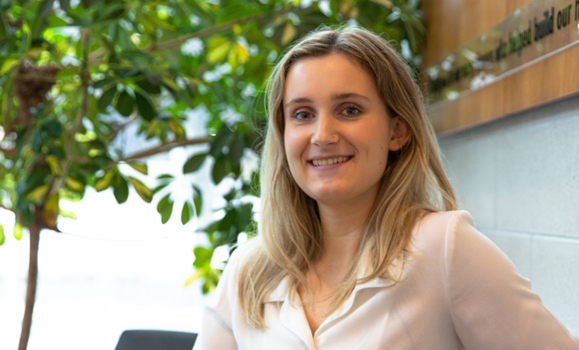 Taryn Faliszewski was born with an entrepreneurial mindset — positive, creative, persuasive, driven and tenacious. It's clear when you talk to her that it's in her blood. "My dad is an entrepreneur, and I have always wanted to be one," says Taryn. "But I originally planned to become a dietitian, until an advisor in high school suggested I study business."

This suggestion led her to the Bachelor of Management program, and a move across the country from her home in British Columbia.

As an aspiring entrepreneur, her internship at EnPoint (a local women-led mentoring company) and research assistantship at the Women's Entrepreneurship Knowledge Hub (WEKH) were a great fit. At EnPoint, Taryn helped develop an employer playbook, interviewing students from various post-secondary programs in Halifax about the shifting world of work (a timely project during a global pandemic forcing record numbers of people towards remote work).  

WEKH is part of the Government of Canada's Women Entrepreneurship Strategy that aims to increase women entrepreneurs' access to resources. The Rowe School of Business is the regional hub for Atlantic Canada. "I got to work on developing workshops, building connections and removing barriers for women entrepreneurs," Taryn explains. "Our current concentrations are oceans and Indigenous-focused leadership, which has been rewarding."

Albert James, an associate professor in the Rowe School of Business, is Taryn's supervisor at WEKH.
"What I enjoy about working with Taryn is she never lets me down," he says. "She has developed a true commitment to the project. Her youthful enthusiasm and inherent smarts have been a welcome counterpoint to my shortcomings with technology and old-fashioned approaches."
Taryn describes participating in a business competition in Vermont with Dr. James and fellow BMgmt teammates as a highlight of her Dalhousie experience.
As someone who plays volleyball, hikes and runs when not studying or working, it is not surprising that she would thrive in a competitive environment.  

Taryn is a champion networker and leveraged this skill to shape her future. She did not wait for opportunities to come her way; she went out and found them. The time and effort she put into building her contacts made her internship at EnPoint possible (her original placement was in the United States but fell through because of the pandemic). Most importantly, it landed her a full-time job as a business development associate with Alida, a Toronto-based company assisting brands with customer experience management. "My connection who had a connection introduced me to this company," she says. "Having that personal relationship and following Alida's work over the past year allowed me to decide what industry I wanted to break into post-graduation."  

She suggests that other graduates do the same thing: network, network, network! Leverage your professors and their vast amounts of knowledge. Take advantage of all opportunities. As she describes it: "Keep fueling the connection pipeline until you find exactly what you want." She also credits Jonathan Perry in Management Career Services for helping her on her career journey.

In addition to her new job, Taryn will be taking on a role as a Canada Connects volunteer with the Immigrant Services Association of Nova Scotia (ISANS), where she will help newcomers adjust to Canadian culture and customs, and be able to practice the intercultural communication strategies she learned from professors such as Binod Sundararajan, Oksana Shkurska and Shuna Ho. In addition to being entrepreneurial, Taryn clearly has a global mindset. Eventually (once global mobility is safe again) she hopes to travel and work internationally in advertising, global affairs, foreign policy or international relations. For now, Halifax is home.

Wherever Taryn ends up, that positive, creative, persuasive, driven and tenacious attitude will carry her far.