News
»
Go to news main
Any help and comfort we can provide: Ear savers for frontline workers
Posted by
Nicole Maunsell
on May 8, 2020 in
Students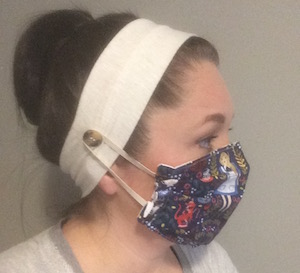 Stefanie Adams is one of many Nova Scotians supporting frontline workers during COVID-19 by making cloth masks. After a request from a friend, she's also helping to make them more comfortable.
Stefanie's making "ear savers," a headband that takes the strain off ears. Many workers, including those in healthcare, public transit and retail positions, are wearing masks most of the time they are on duty. The elastics on many widely available masks can pull and chafe the skin behind the ear, causing discomfort and rashes. The ear saver headbands have a button on either side that the masks can be secured to instead.
Stefanie is a part-time Business Management student and a full-time employee in Dal's Human Resources department. She's sewing masks and headbands on evenings and weekends.
Responding to the call
It started with a friend in the healthcare field who'd found the pattern online and was looking for someone who could make one for her. Stefanie volunteered immediately. She's been sewing since she was a teen and even had a small business making headbands and scarves for a time. "I wanted to do something for frontline workers because they didn't ask for this or expect it," she explains. "It's taken off from there."
She posted on Facebook asking for fabric donations and now has a large bag of material to work with. "People are so eager to help out any way they can right now," she says. Word spread, and the requests started coming in. She's sewed ear savers for nurses, midwives and a friend who works in a long-term care facility.
Stefanie is still receiving requests. She plans to make as many as she can. "It's fulfilling to know that I'm doing something that could help someone," she says.
Making your own ear saver headbands
To make your own ear saver headband, you will need stretchy material, like the kind used for t-shirts or yoga pants, as well as two buttons. Stefanie used her own measurements and this video tutorial as a guide. She's using a 20" by 6" rectangle of fabric and folding the finished headband in half to find the correct button placement. You can use the downloadable pattern available for sale for more detailed instructions.
If you want to make them to donate, Stefanie recommends checking with an organization first to make sure it doesn't violate any regulations governing what employees can wear. She suggests asking around. There is probably someone in your network who could use some relief from the discomfort of wearing a mask all day.
Stefanie is not just thinking of healthcare workers. "Grocery store employees and bus drivers are facing unprecedented risks they likely never thought of when they started their jobs," she says. "Frontline workers deserve any help and comfort we can provide."