News
»
Go to news main
"Nothing will get done if we don't do it." Student activist Tina Oh wins prestigious Brower Youth Award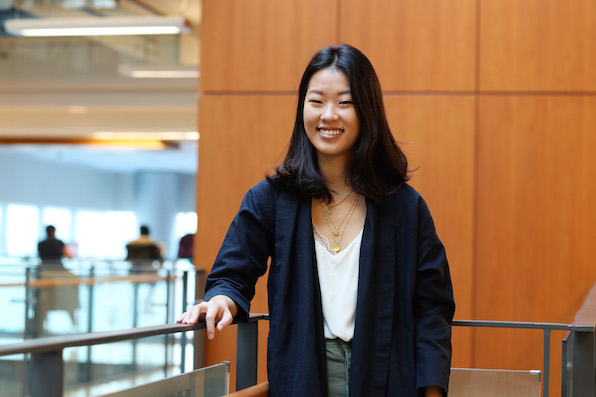 At first glance, Tina Oh looks pretty fearless. The first-year Master of Environmental Studies (MES) student was presented with a Brower Youth Award in October in recognition of her outstanding leadership in the environmental movement. She has travelled the world, organized a three-day protest and student sit-in at the Mount Allison University President's office, been arrested for crossing police lines at the Climate 101 protest in Ottawa against the Kinder Morgan Trans Mountain Pipeline, and was impeached as a student leader as a result.
But she stills gets scared.
"In the moment, I'm able to overcome my fear because of adrenalin," says Oh. "I also want to acknowledge that there's so much anxiety about climate change already and there's so much fear. But there's also that great drive to look beyond and use that anger and fear to create action and do things, even if they're really contentious and folks might not agree with you."
Raised on Treaty 6 territory in Edmonton, Oh witnessed firsthand the effects of the oil crises of 2008 and 2014, seeing her family, neighbours and friends lose their livelihoods. This spurred her to activism at Mount Allison, where she led DivestMtA, a student movement pressuring the university to withdraw its investments in fossil fuel companies. She comes by her political engagement honestly. During the 1980s in South Korea, her father was imprisoned for eight months for being a student protestor.
"He can relate to the fear and the danger that sometimes accompany this work," she says. "My parents are very supportive of the work I do."
To date, no university in Canada has divested itself of fossil fuel investments, despite many student movements including Divest Dal.
Winning a Brower Award was the crowning achievement of Oh's undergraduate career as an activist. The award is given to six North American young people every year by the New Leaders Initiative of the Earth Island Institute, founded in 1982 by well-known environmentalist David Brower. Winners travel to San Francisco and spend a week learning and bonding. The result is a short film about each recipient by an Emmy Award–winning film crew.
"The Brower Award is really well known in the U.S., and that has meant a lot of opportunities for interviews and collaboration with other folks," says Oh, who is the only Canadian winner in the last nine years.
Oh has been named one of Canada's Top 25 Environmentalists Under 25 by The Starfish Canada, is the interim coordinator for the Canadian Youth Delegation (CYD), which sends activists from across Canada to United Nations' climate change conferences, and is part of the steering committee for Powershift 2019, a national climate gathering in Ottawa. As a delegate to previous UN conferences, she attended climate change negotiations in Morocco and Germany. She was in Katowice, Poland, for the COP 24 this December.
Oh's work as an activist and researcher has focused on human rights, feminism and environmentalism, with particular attention to how climate change disproportionately affects disadvantaged communities. She plans to do her graduate research on food security. "Dal has such strong connections in Atlantic Canada and across the nation," she explains. "I'm really excited to continue doing food research."
Asked what advice she'd give to students who want to get involved in issues important to them, Oh says, "For young folks who want to get involved, you just have to do it. There are so many things going against us, in terms of systems, structures and bad ideologies. Nothing will get done if we don't do it. Do it with friends – that makes it easier!"
To watch Tina Oh's Brower Youth Award video, visit:
https://www.youtube.com/watch?v=aEBy0PQM1ms