News
»
Go to news main
"Be more informed, eat better and save money": Dalhousie and Guelph release Canada's Food Price Report 2019
Posted by
Erin Elaine Casey
on December 4, 2018 in
Research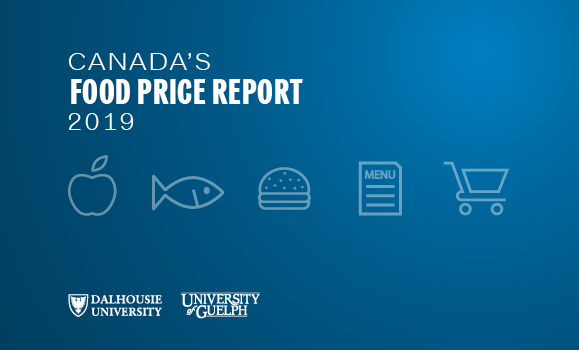 The average Canadian family is expected to spend $411 more on food in 2019 than in 2018, bringing the total cost of healthy food to $12,157 for the year, according to Canada's Food Price Report 2019. The report, now in its ninth edition, was just released by a team of researchers from Dalhousie University and the University of Guelph.
"Overall food prices are expected to rise no more than 3.5% in 2019, a slight increase from last year," says Dalhousie Project Lead Sylvain Charlebois, professor in the Faculties of Management and Agriculture. "This is particularly due to the higher cost of fruits and vegetables, which will likely increase by 4% to 6%."
"With fruits and vegetables being a major part of a healthy diet, this raises concerns about the ability of Canadians to maintain the twofold effort of putting food on their plates and it being something healthy," adds Guelph Project Lead Simon Somogyi, professor in the College of Business and Economics.
There is some good news for consumers. For the very first time, Canada's Food Price Report forecasts a price decrease in two important categories: meat and seafood, still key parts of the Canadian diet despite the fact that consumers are turning to plant-based proteins in larger numbers. "We consume 94 million fewer kilograms of beef annually today than in 2010, and more than 3 million Canadians say they are eliminating meat from their diets completely," says Charlebois.
Another way Canadians can save money next year is to cook and eat at home. Canadians spend on average 35% of their food budget on buying prepared foods, and this year's report is predicting a further increase in the cost of eating out. Team member Erna van Duren, agricultural economist in the College of Business and Economics at Guelph, points out, "Consumers can save money, but only if they plan ahead and know how to adapt. It makes sense to invest in cooking skills because they make it possible to cut costs by buying what's on special as opposed to what's simply on your list or looks appealing when you grocery shop."
One trend to watch in 2019 is edible cannabis products, which are expected to be on the market in the next 12 months. "One day a food product will be illegal, the next legal," explains Somogyi. "I can't think of another time in Canada where a food product has experienced this. Having seen major disruption in the marketplace with cannabis shortages nationwide, will food processors have access to adequate supplies of cannabis to put into food? Time will tell."
Eamonn McGuinty is a first-year student in the Master of Resource and Environmental Management (MREM) program at Dalhousie and served as a research associate for the project. He also completed a Bachelor of Commerce in Food and Agricultural Business at Guelph, which made him a perfect fit for the team. "I am passionate about this topic, especially as things are at a crossroads with technology and globalization," he says. "I'm extremely bullish on the role Canada can play on the world stage of agriculture and food. We're getting there, but still have lots to do."
"Most of us eat at least three times a day," says van Duren, "and each of these times is an opportunity to be more informed, eat better and save money."
For more information, please read the complete Canada's Food Price Report 2019.
This year's research team also includes Dalhousie colleagues Vlado Keselj, Jay Harris and Joon Son (Computer Science), Andrea Giusto (Economics), Catherine Mah (Health) and Janet Music (Management). They joined forces with University of Guelph researchers Francis Tapon, College of Business and Economics, and Paul Uys of the Arrell Food Institute, which Charlebois co-founded. The Nova Scotia Community College also took part in the project.