News
»
Go to news main
"There's no textbook about this level of interdisciplinary engagement"
First-year students learn to solve complex management problems in new Interdisciplinary Management course

Undergraduate students in the Faculty of Management are taking part in a bold new educational venture this fall. It's not a startup incubator or a hands-on entrepreneurship project, but it might be just as innovative.
A new first-year course—Interdisciplinary Management—is designed to help Bachelor of Management students integrate the broad range of material they'll be exposed to throughout their undergraduate years. The goal is to lay a solid foundation for solving the complex management problems graduates will see in their future careers.
"They get to see how different lenses will help them move forward in a management program and a management career," says Paulette Skerrett, lecturer and assistant director of the Bachelor of Management program, who also coordinates the course. "It's not just 'put your blinders on and move forward'. You have to take in all these perspectives. A management education is relevant to all disciplines and all career paths."
What makes the course so special? It's team-taught twice a week by four professors: Skerrett, who brings the business perspective; Mike Smit, associate professor in the School of Information Management; Tony Walker, assistant professor in the School for Resource and Environmental Studies; and Markus Sharaput, senior instructor and MPA graduate coordinator in the School of Public Administration.
"We work on the fly, and there's quite a bit of improv," says Walker. "There's no textbook about this level of interdisciplinary engagement."
"We think the management problems that our students are going to face require perspectives from different angles," explains Smit. "That's the philosophy of the degree and we wanted an intro course to reflect that philosophy."
The Bachelor of Management is an interdisciplinary program with participation from all four Faculty of Management schools, including the Rowe School of Business. Interdisciplinary Management is a requirement for students in the Bachelor of Management and Bachelor of Applied Computer Science programs.
The course emphasizes creativity, leadership and innovation, and introduces students to the basics of management and how people and processes vary across disciplines. It explores management issues of planning, organizing, leading and controlling in the for-profit, not-for-profit and public sectors.
"We found that students were getting these different pieces but weren't always seeing the links between them," says Smit. "We wanted to articulate by example that the lens of each of these areas allows you to better see problems and undertake solutions."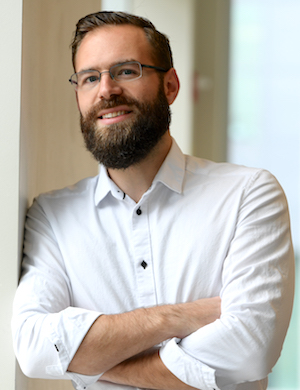 James McNutt (pictured at right) is a third-year student in the Applied Computer Science program and is pursuing his degree while working full-time. "I'm really enjoying it, which is one of the reasons I'm sitting in the front row! The professors don't always agree, and I think that's amazing. It's really interesting how the faculty and even the students have their own take on the material."
For students, having four professors discussing timely, real-world topics each week means getting four sometimes very different perspectives on a single management issue. "We often have different solutions or angles to solve a problem. We don't always agree, and the students can see how we would all tackle it," says Walker.
Sharaput agrees. "There's a lot of high-level content, and I'm not sure if the students even realize it. We talk about power and accountability, delegation and authority. It's not just that you've got a dispute amongst disciplines; you've got fundamentally different perspectives on how a problem should be considered."
"We even heckle each other at times," laughs Walker.
Topics so far this semester have included the diplomatic situation between Canada and Saudi Arabia, the plight of right whales, resource scarcity and the size of Metro Transit tickets.
"A lot of my own assumptions get challenged on a regular basis," adds Sharaput. "For the students to see that happen and get worked out is really useful."
Students appreciate the teaching team's openness to the unexpected. "The last thing you want in any course is for a prof to say, 'This is the way it is,'" says James McNutt, "So I like that they sometimes challenge each other's stances in class. Students don't always have the confidence or expertise to do that. Having four different talented professors to offer a range of approaches to an issue is really valuable."
(L to R): Professors Tony Walker, Markus Sharaput, Paulette Skerret and Mike Smit