News
»
Go to news main
Talking with Nobel: SRES professor participates in prestigious food dialogue
Posted by
Miriam Breslow
on December 5, 2016 in
News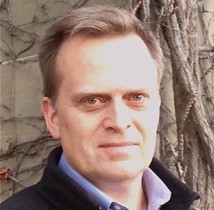 Last February, Dr. Peter Tyedmers was catching up with a Swedish colleague when she mentioned that she and colleagues had proposed a panel for the 2016 Nobel Week Dialogue. "She said, 'We've included your name as a potential participant,'" recalls Tyedmers. "'Just wanted to let you know—and by the way, it's in December and you might want to hold the date.'"
Tyedmers, professor and director of the School for Resource and Environmental Studies (SRES), had never heard of the Nobel Week Dialogue, but his colleague, Dr. Friederike Ziegler, told him about the 2016 theme, "The Future of Food." She believed that Tyedmers would be a good fit for a panel about future opportunities in seafood; he uses a tool called life cycle assessment (LCA) to evaluate food production systems, particularly seafood.
As it turns out, the Nobel Week organizers didn't bite when it came to the seafood panel—but they asked Tyedmers to participate anyway. "Because I also work on food losses, terrestrial systems, conventional and organic agriculture, and other areas, I bring a broader knowledge and experience of food," he explains. In September he received an official invitation to Stockholm for the Dialogue and readily accepted. "I've been a keynote speaker at conferences with 400 to 500 people," says Tyedmers. "I've never been involved in an event that has the profile of the Nobel or with this scale of audience or stature of co-participants."
The Dialogue, which takes place December 9, the day before the Nobel Prize awards ceremony, centres each year on a different theme. "Other topics have been things like AI and the future of cybernetics," explains Tyedmers. "They're forward-looking, culturally important topics." While Nobel Prizes recognize accomplishments in particular fields, the Dialogues, he says, are more about engaging with broader society. While Tyedmers knows a little about the other participants—he will be discussing his research with a handful of Nobel laureates, among others—he has yet to learn about the content of the panels. "What I know," he summarizes, "is that on December 9 I will be one of about 20 people with very diverse interests in food systems, and we will engage in a series of conversations around food in front of an audience of over a thousand people."
Tyedmers has been researching food for decades. Aside from his work on seafood, he studies other food systems, often using LCA to examine the impacts and trade-offs associated with how we produce food. He has also, usually with students, explored topics as diverse as organic and conventional apple production, the global future impact of livestock production, dairy production in Nova Scotia, and the impacts of wine production and consumption. Tyedmers' studies often examine food systems in Atlantic Canada, but if inclusion in the Nobel Week Dialogue is any indication, they have global significance.
Another interest for Tyedmers is "food loss," more commonly thought of as waste. Framing loss as waste, he says, is "guilt-inducing." For Tyedmers, it's important to understand that it's impossible to reach zero food waste, but rather to look at different opportunities to reduce loss. Given that one of the panels in the Dialogue is titled "Waste," Tyedmers notes, "I think I may be a bit of a dissident voice on stage." He is looking forward, though, to engaging with other thinkers at the event. "What I want to get out of it," he says, "is to have a great conversation, to be challenged in some of my own understandings about food systems, and to maybe have an opportunity to challenge some other people's thinking."
Tyedmers already has an ongoing dialogue about food systems—albeit a slightly less glamorous one—with his colleagues and students. "With six professors in SRES, we aren't big enough to have a group of food researchers," he says, "but I have colleagues whose interests touch on food and agricultural systems." He also notes that many students, in both the thesis-based Master of Environmental Studies and the course-based Master of Resource and Environmental Management programs, are drawn to environmental management studies because of an interest in food. "It's wonderful, and it's sensible, because food matters," he says. Tyedmers hopes in the future to mount a food systems sustainability course for students in both SRES and the College of Sustainability. "There's so much interest there," he says, "from students and from broader society." Not to mention from the Nobel group.
Aside from participating in the Dialogue, Tyedmers is invited to the Nobel Prize awards ceremony and banquet. "I'm very excited," he says. "I never thought I'd have the opportunity to attend a Nobel ceremony, to have the opportunity to be part of that process of recognition of human accomplishment. And to be part of a discussion the day before on something I care a lot about is a bonus." Although the formality of the event may cause a few hiccups along the way—Googling "Nobel ceremony attire" reveals an extremely specific dress code, Tyedmers explains—attendance is obviously a privilege. "My 17-year-old son said, 'this is a once-in-a-lifetime opportunity. It's pretty cool,'" says Tyedmers. "And he's absolutely right."