News
»
Go to news main
A focus on leadership: Dal's new MBA
Posted by
Miriam Breslow
on March 11, 2016 in
News
For the past 20 years, the Centre for Advanced Management Education has been running a unique program, enrolling mid-career professionals from across Canada for a blended-online MBA. Students in the program continue to work while completing the MBA Financial Services degree. Now, with two decades of success behind them, CFAME is branching out with a new MBA Leadership program.
"It's the only MBA in Canada focused on leadership and it reflects the latest thinking on the subject," says Dr. Martine Durier-Copp, CFAME Director. "We were getting requests for a more general MBA that isn't focused specifically on the financial services sector. We chose leadership because we have a strong group in the faculty who specialize in that area."
The Leadership stream will follow the same format as the Financial Services (FS) program. "The model is blended," says Durier-Copp, "so throughout the term the students learn through our web-based learning management system, and at the end of each term they gather across the country for face-to-face intensives."
CFAME's MBA programs are the only ones in Canada to use a blended format, and Durier-Copp says that CFAME is constantly studying its own model: "We're also a research centre of e-learning, so we examine the efficacy of this model, which evidence shows yields a higher level of success than just e-learning." Dr. Jim Barker, a faculty member in the MBA-FS and the new Leadership program, explains the thought behind blended delivery. "We worked very hard to create courses that fit this model," he says, "and we think very carefully about what is done online and what is done in the intensive sessions to maximize both of those." For instance, Barker teaches a course in management skills development, required for both Financial Services and Leadership students. Peer-to-peer learning is an important component of management skills development for these students, but it's difficult to get peer learning online, he says. "So I focus the online segment on learning the basic knowledge, and during the intensive the students use that knowledge to maximize the peer-to-peer experience." Barker loves teaching the mid-career professionals CFAME attracts: "I've been a manager too; I've been in the position that they're in. So we can understand each other and I can help them move forward."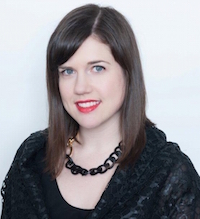 Move forward is certainly what Allison Rockwell did. She's a recent graduate of the Financial Services program now working as a private banker with RBC. "I was at a point in my career where I needed more options," Rockwell says of her motivation for starting the MBA-FS. "I needed to be competitive, to open more doors."
The blended delivery model worked well for her. "I was able to study at my own pace and fit it into my work and personal life," she says. "And I liked going to the intensives because I got a lot out of being face-to-face and meeting people, from both a friendship and a networking point of view." Besides working with faculty members who encouraged and challenged her—she describes her courses with words like "relevant" and "mind-bending"—Rockwell also learned from her classmates. "You connect with people at the intensives," she says, "and you keep relationships with the people you meet. You help each other." Rockwell was one of the younger students and learned from more senior professionals. "I think it can work for anyone in their career because everyone gets something different out of it," she says. "It helps seasoned professionals understand how millennials work. You're meeting people at all stages of their careers, their 20s to their 50s."
Some of the people Rockwell met through the MBA-FS are now her colleagues. "I really liked the people I met from RBC," she says. "They were wonderful all around, ambitious and ethical. And our values matched up." Thanks to connections she made in the program, Rockwell now works for RBC in Vancouver and has a solid network of professionals across Canada.
Durier-Copp, Barker and others in CFAME are excited to bring experiences like Rockwell's to a new set of students. While the Leadership degree shares 10 core courses with the MBA-FS, it has four different courses geared specifically to leadership. "The courses cover particular challenges that leaders face in today's organizations," says Barker: "how to rapidly adapt in fluid situations, and how to engage with current issues in the Canadian workplace, such as the changing composition of the workforce, the impact of data and analytics and the need to integrate across different business functions." The MBA Leadership program covers these topics as practically as possible, he says, with students practising in class dealing with ethical dilemmas that arise in business.
Barker reflects on the importance of the new program: "The benefit of the MBA Leadership is an understanding of how the Canadian workplace is evolving," he says. "Organizations are getting increasingly complex, and the best example of that is the growth of technology, especially analytics. Those applications create a lot of opportunities but they also create very difficult managerial issues. What is needed particularly in the Canadian workforce is leaders with the skills to excel in these environments. That's what our program addresses."