Speak Easy with Scott Brison & Linda Hasenfratz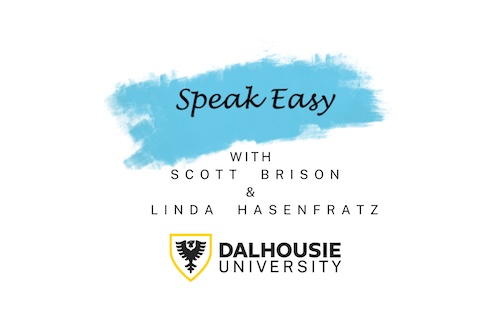 Speak Easy with Scott Brison, and special guest Linda Hasenfratz, is an opportunity for young alumni to engage with business leaders. Our hope is that through inquiry and deep conversation our alumni will develop meaningful connections and access a global network of cross–sectoral leaders. Together, you can create positive change, inspire social and economic innovation, and discover new possibilities.

Please join us online for this wonderful opportunity for mentorship and to build your network. We are privileged to have Scott Brison and Linda Hasenfratz offer their time and knowledge to our alumni.

DATE: Tuesday, April 18, 2023
TIME: 7:00 – 8:00 PM AT (6:00 – 7:00 PM ET)
LOCATION: ONLINE

NOTE: The Link for the online event will be sent to registrants upon registering.

Hon. Scott Brison, P.C.
Chancellor, Dalhousie University
Vice-Chair, BMO Capital Markets
The Honourable Scott Brison joined BMO in 2019 as Vice-Chair, Investment & Corporate Banking. As an elected Member of Parliament, Scott served the constituents of Kings–Hants (Nova Scotia) who elected him to Canada's House of Commons seven consecutive times over 21 years. During that time, he served in government for seven years in key roles, most recently as President of the Treasury Board and Minister of Digital Government from 2015 to 2019, Minister of Public Works and Government Services from 2004 to 2006, and Parliamentary Secretary to the Prime Minister with special emphasis on Canada–U.S. relations from 2003 to 2004.
In June 2020, Mr. Brison became Dalhousie University's eighth chancellor.
Mr. Brison is a member of the Trilateral Commission and was named by the World Economic Forum of Davos, Switzerland, as one of its "Young Global Leaders." In August 2010, he was awarded the Order of San Carlos by Colombian President Álvaro Uribe in recognition of his contributions to the Canada–Colombia Free Trade Agreement.
Mr. Brison serves on the board of Universal Rail Systems, Bond Resources Inc., the Canada–China Business Council, the Dalhousie University Board of Governors, the Macdonald Stewart Foundation, CJPAC, the advisory board of the Canadian American Business Council, Power Sustainable, High Liner Foods Inc. and previously served as Chairman of SeaFort Capital Inc.
Mr. Brison earned a Bachelor of Commerce degree from Dalhousie University in 1989. He has completed the Global Leadership and Public Policy for the 21st Century Executive Education Program at the Harvard University Kennedy School of Government.
Linda Hasenfratz
Executive Chair & Chief Executive Officer – Linamar Corporation
Linda Hasenfratz is the Executive Chair & Chief Executive Officer of Linamar Corporation, a global, diversified manufacturing company focused in the automotive, access equipment and harvesting equipment markets. Hasenfratz joined her father's company in 1990 and worked her way up from the ground floor, experiencing all aspects of the business, including running a machine, engineering and operations management. Since her tenure as CEO began, Hasenfratz has grown the company from an $800 million enterprise to a nearly $6.5 billion company.
Hasenfratz has been a member of the Board of Advisors for Catalyst Canada since 2003. In February 2017, she was announced as the Canadian Chair of the Canada–United States Council for Advancement of Women Entrepreneurs and Business Leaders.
Strengthening her position as a Canadian and global leader, Hasenfratz sat on the board of CIBC from 2004 to 2020, including 4 years as the Chair of its Management Resources Compensation Committee. She was Canadian Chair of the North American Competitiveness Council in 2008, a trilateral group of executives from Canada, the U.S. and Mexico convened by the countries' leaders to debate and advise on key recommendations regarding enhancement of the NAFTA region; she served on Minister Freeland's NAFTA Advisory Council during the NAFTA renegotiations.
Hasenfratz became a member of the Board of the Business Council of Canada (formerly the Canadian Council of Chief Executives) in 2010 and was Chair from 2016 to 2018. She supported one of Linamar's key industries – the automotive industry – through her appointment as the first female Director to the Faurecia Board of Directors, where she served from 2011 to 2021 including 4 years as the Chair of the Compensation Committee. AEM asked Hasenfratz to join its board in 2018 and she was appointed Treasurer in 2021. The California Mobility Center invited Hasenfratz to join its board in 2020.
Hasenfratz was recognized for her contributions to Canadian business through honourary degrees from Ryerson University in 2003 and Wilfrid Laurier University in 2011, as well as the Outstanding Leader Award from the same institution in 2007. She was awarded an honourary degree from Fanshawe College in 2016. In the spring of 2014, the Asper School of Business at the University of Winnipeg honoured Hasenfratz with the International Distinguished Entrepreneur Award (IDEA), which honours a business leader who has achieved outstanding entrepreneurial success and has made an exemplary contribution to economic life. In the fall of 2014, Hasenfratz was awarded the Ontario Ernst & Young Entrepreneur of the Year Award – Manufacturing and the overall Ontario Entrepreneur of the Year Award. She was also extremely honoured to be awarded the National Ernst & Young Entrepreneur of the Year Award for Canada at a gala in November 2015 and to represent Canada at the World Entrepreneur of the World Conference in Monaco in June 2015. In May of 2016, Hasenfratz, along with her father, Frank, was inducted into the Canadian Business Hall of Fame. She received the Distinguished Entrepreneur of the Year Award from the University of Victoria in September 2016. In October of 2016, Hasenfratz received the Fraser Institute Founders Award along with Linamar's President & COO, Jim Jarrell. In September 2016, she was named to Fortune's 50 Most Powerful Women International list. The Ivey Business School at the University of Western Ontario honoured Hasenfratz in October 2017 with its Ivey Business Leader Award. In 2018, she was named Canada's Outstanding CEO of the Year and appointed to the Order of Canada. In October 2019 she was installed as University of Western Ontario's 23rd Chancellor.
Time
Starts:
Ends:
Location
Online
Cost
Free of charge

Speak Easy with Scott Brison & Linda Hasenfratz