»
Go to news main
Leaning in to leadership: New MPA(M) grad Laura Dowling learns management skills while building career and family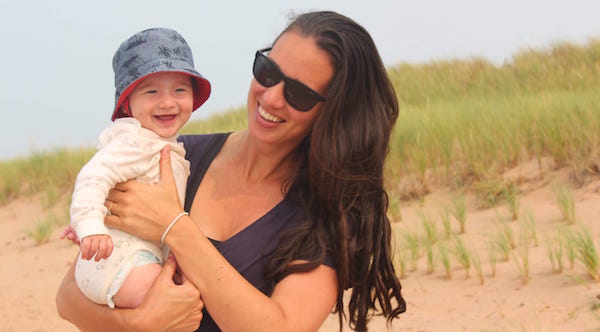 Laura Dowling was working in health research when her director approached her about taking on a management role that would see her newly handle a major budget and supervise more of the team. While Dowling gladly accepted the promotion, she also wanted to formalize her management training with a program that would help her rise to that next level with confidence.
She found the perfect fit in Dalhousie's Master in Public Administration (Management). She liked the fact that the degree blended online and in-person learning, which suited her busy work life. She was also a Dalhousie grad already, having completed her law degree with specialization in health law in 2011. "It was an easy decision, and a great experience," says Dowling.
As it turned out, the program also suited her growing family life: Dowling gave birth to a son midway through the program. Today, Dowling is freshly graduated and has also moved on from her past employer, so she's looking for new opportunities to use her management skills in the health and social services fields. She is currently supporting academic research related to seniors and COVID-19.
Comprehensive yet flexible learning
Today's MPA (M) is made up of 13 courses and delivered 90 per cent online, with an intensive, in-person session held for two to three days at the end of each course. Dowling completed the program in just over three years, starting by taking two courses at a time, and then one per term after her son was born. "I appreciated the flexibility that allowed me to take courses as I could manage them, and also that the program planned out courses years in advance so I could look ahead and decide what to take," says Dowling.
She adds that the flexibility became especially important when she became a parent in 2018. "There were times where it was a lot to manage. But everyone in the program had a full-time job, mine just happened to be parenting. I did appreciate the flexibility to drop down to one course," she says.
Dowling says she also liked the fact that so many of her professors had experience in the field. "My favourite professors brought their real-world experience and shared it with us," says Dowling. Professor Nancy Carter, an evaluation scientist for the Nova Scotia Health Authority, was one of her favourites. "She shared her experiences around relationship building and how important that is in the health and non-profit sector, and that really added an extra dimension to the course."
Everyday connections
Most assignments also connected to problems that Dowling and her classmates faced as professionals. As an example, Dowling recalls that her human resources course addressed issues of health and human resources planning around physician shortages in Nova Scotia. "That's a real-world issue faced by the Nova Scotia health authorities," says Dowling, adding that she and her classmates would often talk about how quickly they could apply the learning directly in their workplaces.
Dowling's classmates included program managers from all levels of government, as well as managers in the non-profits, arts and senior care sectors. "Having perspectives from all these fields was invaluable," says Dowling. "It was another example of layers of context added on to class content." Their voices also made the intensives at the end of each course particularly special, as they presented an opportunity to meet face-to-face. "Over the years I developed a little network I could reach out to," she says.