About the Faculty of Management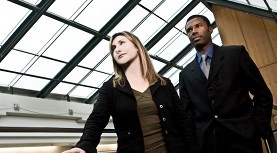 Management News from Dal News
Right where she needs to be
Commerce student Adeline Urban's path to Dal involved a journey across the country. Now that she's arrived, her journey has become one of discovery — of her history, her heritage and herself.

The Conversation: Why you shouldn't be a 'straw‑man' environmentalist
Fast-food restaurants and coffee shops are banishing the straw. While it may seem like a small measure, your pessimism isn't justified, write Dal researchers Riley Schnurr and Tony Walker.

Learning to expect the unexpected
Tyler Lightfoot's background in English and Psychology gave him the foundation to hit the ground running with a Library and Information Studies master's degree at Dal and turn it into a new career as a data analyst.

View more Dal News
Faculty & Research