About the Faculty of Management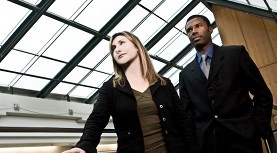 Management News from Dal News
Keeping it "200": Meet banner students Jiajing Chen and Michael Doane
Want to learn more about some of the exceptional students seen across campus on Dal's 200th anniversary banners? Get to know Jiajing Chen (Planning) and Michael Doane (MBA).

Turning ethics into action
Students from across Canada were on campus late last month for the 2017 Ethics in Action Case Competition. The event included the presentation of the fifth-annual Scotiabank Ethical Leadership Award to The Honourable Justice Rosalie Silberman Abella of the Supreme Court of Canada.

Expanding the classroom beyond the lecture
Information Management professor Vivian Howard, this year's recipient of Dal's top teaching award, eschews traditional lectures for an engaging style of teaching that puts students front and centre.

View more Dal News
Faculty & Research