About the Faculty of Management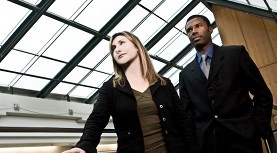 Management News from Dal News
The Conversation: Understanding the risks to Canada's drinking water
World Water Day (March 22) shines a light on the importance of safe, clean drinking water but a new report finds Canada's freshwater systems are under stress, writes MacEachen Institute Director Kevin Quigley for The Conversation.

The "Five Days" legacy
When Rowe School of Business students started their annual camp-out in support of Phoenix Youth Programs in 2013, they had modest goals. Five years later, the campaign has raised over $65,000 in support of youth experiencing homelessness in Halifax.

Meet Dal's Top Co‑op Students of the Year
Profiles of six future leaders who are receiving Dal's student co-op awards, exploring how they each made the most of their work experiences.

View more Dal News
Faculty & Research