Cassandra
Hanrahan
Associate Professor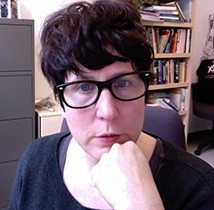 Email:
cassandra.hanrahan@dal.ca
Phone:
902-494-1349
Fax:
902-494-6709
Mailing Address:
School of Social Work
Dalhousie University
Suite 3212, Mona Campbell Building,
1459 LeMarchant Street
PO Box 15000 Halifax, Nova Scotia B3H 4R2

Research Topics:
Intersectional analysis, affirmative ethics and becoming
Posthumanism, anthropocentrism and social work
Human-animal interaction and relations
Animal-assisted interventions
Deep-ecological social work
Spirituality and social work
Education
BA, McGill University
MA, University of Toronto
PhD, University of Toronto
Master's Certificate in Project Management, York University
MSW, York University
Biography

Dr. Cassandra Hanrahan is an Associate Professor in the School of Social Work, Dalhousie University. Her PhD in sociology and equity studies and master's in social work combine to form a strong basis in social justice for both her scholarship and teaching philosophy. She teaches courses from a trans-disciplinary perspective in the core areas of theoretical foundations and social policy in the BSW and MSW, campus and distance education programs. Her primary interest is in the inter-relatedness of human, other animal, and environmental health and welfare, and the dynamic relationships between all three that affirm our kinship and remind us of our place in the web of life. A related interest in spirituality is aimed at fostering an active awareness of our interconnections as the foundation of human compassion for all living beings, and as a pathway toward sustainable health practices and ecological stewardship.

Prior to her appointment at Dalhousie, Dr. Hanrahan was an independent visual arts curator and programmer for film and media arts festivals for equity-seeking groups; a focus that developed out of her dissertation on the role of visual narrative production and reception in relation to empowerment and resilience. Through conference presentations, popular and academic publications, and experience creating original film and media arts programs for community groups, she has substantive experience in knowledge translation. Her curatorial work, combining her knowledge of critical social theories with community capacity building, includes Rendezvous with Madness, Canada's leading mental health film festival at Toronto's Centre for Addictions and Mental Health; a cornerstone of which was the facilitation of post-screening Q&As and symposiums with mental health service providers, consumers, advocates and the general public.

Grants Received

Principal Investigator, "Animal-Assisted Interventions in Nova Scotia: Investigating Current Practice Within the Health Professions". $140,483. Establishment Grant, Nova Scotia Health Research Foundation (NSHRF) (October 2013 - October 2016). Co-Investigator: Dr. Atsuko Matsuoko; Associate Investigator: Dr. Paula Hutchinson; and, Mentor: Dr. Jan Fook.


Principal Investigator, "Social Work Practitioners and the Human-Companion Animal Bond: A Provincial Study". $15,000 from Nova Scotia Health Research Foundation (October 2011 – October 2012). Co-Investigator Christina-Risley-Curtiss


Principal Investigator, "Social Work Practitioners and the Human-Companion Animal Bond: A Provincial Study". $2,000 from Dalhousie Faculty of Health Professions, Research Development Grant (March 2011 – March 2012).


"Human, Animals and the Environment: An Inclusive Approach to Social Theory and Practice". $1,500 from Dalhousie Faculty Travel Grant. Invited paper presented at the International Conference on Health, Wellness and Society, University of California, Berkeley, CA, USA. (January 2011)


Principal Investigator, "Human, Animals and the Environment: An Inclusive Approach to Social Theory and Practice."  $3,500 from Dalhousie Research Development Grant (May, 2010 – May, 2011).

Recent Publications
Hanrahan, C. (2022). Being and Becoming: The Transformative Power and Resilience of Person-Canine Bonds. In The Gifts We Receive from Animals: Stories to Warm the Heart. Edited By Lori R. Kogan. New York, NY: Routledge
Hanrahan, C., & Boulton, A. (2021). Animal-assisted interventions in Canada: AAI as potential field guide in/to alterity relations. Human-Animal Interaction Bulletin Volume 12, No. 1, 45-70.
Chalmers, D., Dell C., Rohr, B., Dixon, J., Dowling, T., & Hanrahan, C. (2020). Recognizing Animals as an Important Part of Helping: A Survey Exploring Knowledge and Practice Among Canadian Social Workers, Critical Social Work, 21( 1), 2-29. 
Hanrahan, C., & Chalmers, D. (2020). Animal-Informed Social Work. In Critical Clinical Social Work: Counter storying for Social Justice, (eds.) Catrina Brown and Judy MacDonald. Toronto: Canadian Scholar's Press
Hanrahan, C., Sabo, B. M., & Robb, P. (2017). Secondary Traumatic Stress and Veterinarians: Human–Animal Bonds as Psychosocial Determinants of Health. Traumatology. Advance online publication.(PsycINFO Database Record (c) 2017 APA, all rights reserved.)
http://dx.doi.org/10.1037/trm0000135


Hanrahan, C. (2016). Being with Different Beings: Social Work and Trans-Species Spirituality. In  Laura Béres (Ed.), Practising spirituality: Reflections on meaning-making in personal and  professional contexts. U.K.: Palgrave Macmillan


Hanrahan, C. (2015). Integrative Health Thinking and the New One Health Concept: All for 'One' or 'One' for All? In Thomas Ryan (Ed.), Animals in Social Work: Why and How They Matter. U.K.: Palgrave Macmillan