Sorayya
Askari
Assistant Professor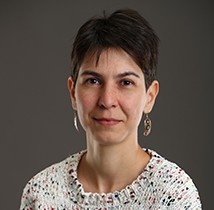 Email:
sorayya.askari@dal.ca
Phone:
902-494-1213
Fax:
902-494-1229
Mailing Address:
Room 328, Forrest Building, 5869 University Avenue PO Box 15000, Halifax, Nova Scotia, Canada B3H 4R2

Research Topics:
Cognition and cognitive impairment
Measurement studies
Chronic disorders
Self-management
Ageing
Mental Health
Driving rehabilitation
School-based occupational therapy
Education
Postdoctoral Fellow (Rehabilitation Therapy), Queen's University
Postdoctoral Fellow (Psychology), Universite de Montreal
Ph.D.(Rehabilitation Sciences), McGill University
MSc.(OT), Iran University of Medical Sciences
BSc.(OT), Shahid Beheshti University of Medical Sciences

Note: Dr. Askari is accepting MSc(OS) students. Learn More.

Research interests
The mission of Dr. Askari's research program is to develop and evaluate outcome measures that occupational therapists can use to accurately capture change over time, in response to interventions. Within this mission, Sorayya's current focus is on the study of cognition in chronic conditions including HIV, Multiple Sclerosis, Traumatic Brain Injuries and Parkinson's disease.
Selected publications (last 5 years)

Gobbi G, Atkin T, Zytynski T, Wang S, Askari S, Ware M, Dendukuri N, Mayo N. (2019). Association of Cannabis Use in Adolescence and Risk of Depression, Anxiety, and Suicidality in Young Adulthood: A Systematic Review and Meta-analysis. JAMA Psychiatry, 76(4):426–434. doi:10.1001/jamapsychiatry.2018.4500.
Askari S, Brouillette MJ, Fellows L, Moriello C, Duracinsky M, Mayo N. (2018). Development of an Item-Pool Reflecting Cognitive Concerns Expressed by People with HIV. American Journal of Occupational Therapy. 72(2). doi: 10.5014/ajot.2018.023945.
Grenier S, Payette M-C, Gunther B, Askari S, Desjardins F, Raymond B, Berbiche D. (2018). Association of age and gender with anxiety disorders in older adults: A systematic review and meta-analysis. The International Journal of Geriatric Psychiatry, 34(3):397-407. doi: 10.1002/gps.5035
Yee T, Magill-Evans J, Zwaigenbaum L, Sacrey L, Askari S, Anaby D. (2017). Participation Measures for Preschool Children with Autism Spectrum Disorder: A Scoping Review. Review journal of autism and developmental disorders, 4, 132–141 (2017). https://doi.org/10.1007/s40489-017-0102-8
Mayo N, Kaur N, Barbic S, Flore J. Askari S, et al. (2016). How have research questions and methods used in clinical trials published in Clinical Rehabilitation changed over the last 30 years? Clinical Rehabilitation, 30 (9): 847-864.
Askari S, Anaby D, Bergthorson M, Majnemer A, Elsabbagh M & Zwaigenbaum L. (2015). Participation of children and youth with Autistic Spectrum Disorder: A scoping review. Review journal of autism & developmental disorders, 2 (1): 103-114.
Teaching
OCCU 5017- Research Approaches and Evidence-Based Practice for Occupational therapy
OCCU 6003 Advanced Practice – Driving Rehabilitation
Memberships
College of Occupational Therapists of Nova Scotia
Selected awards and honours
Dalhousie Belong Research Fellowship Awards (2019)
Dr. Beverlea Tallant Occupational Therapy in Mental Health Research Award (2015, 2017)