Moving Forward
The admission process for the School of Occupational Therapy MScOT Program is proceeding as usual at this time. Please check back for updates as this may change.
MSC (OT) Entry Level Program - Admissions Applications 2020-2021
Keeping our Community Safe
The School of Occupational Therapy is doing its part to keep our community safe. All staff and faculty are following public health guidelines by working remotely. A list of up-to-date FAQ's and resources related to the Coronavirus can be found
here
.
Post-Professional Program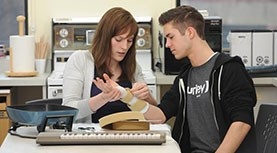 The School of Occupational Therapy is in the process of revising the Post-Professional program. In order to focus on the development of the revised Post- Professional Program while continuing to meet the needs of our current students - admissions for this program is presently on hold.
Information about our programming can be found here. If you have further questions about any of our on-site or online programs please email occupational.therapy@dal.ca