News
»
Go to news main
2023 Crossroads Interdisciplinary Health Research Conference welcomes hundreds of students from across Canada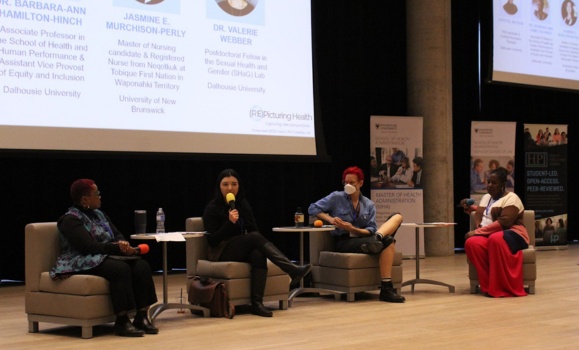 Back in person after a Covid-induced hiatus, the Crossroads Interdisciplinary Health Research Conference offered undergraduate, graduate, and professional program students the chance to present their health research, and network with professionals from various disciplines.
Students' oral and poster presentation topics varied greatly, addressing areas such as the impacts of the Covid-19 pandemic, diagnosis monitoring, chronic pain, physical activity, and more.
Excited at the opportunity to present in-person, Saint Mary's University master's student Miriam Schroeder discussed how auto-ethnography methodology informed her Cystic Fibrosis research.
"I got out of the IWK when I was four years old, as an immigrant who just arrived in Nova Scotia. I always looked out of the hospital room, looked at Dal, wondering if I'll live long enough to be on campus. Now I'm here today, 35, with Cystic Fibrosis." Schroeder said.
Crossroads 2023 welcomed 174 attendees, 40 of which travelled to Halifax for the conference. Delegates came from eight different provinces, and 19 different Canadian universities.
Lakehead University medical student Jamie Thompson travelled from Thunder Bay, Ontario to Halifax for Crossroads grateful for the opportunity to present her research, and learn from conference participants.
"I knew that my unique and counter-narrative research would be heard in this space and would be celebrated in this space. I'm really excited that this is a student-led conference that encourages students to go against the status-quo and continue to be really thorough researchers," Thompson said.
Centered on the theme of (re)picturing health, the 2023 conference took place in Halifax Central Library's Paul O'Regan Hall, and in Dal's Collaborative Health Education Building (CHEB). The conference was held from March 10-11, 2023.
This year's keynote speakers included Dr. Gaynor Watson-Creed, who presented on wicked problems in public health, and Dr. Sanja Stanojevic, who discussed advancements in vaping research.
Understanding collaboration as key to successful health research, Crossroads Co-Chairs Joshua Yusuf and Michaela Title introduced two new social events to this year's itinerary: a drag trivia mixer at the Grawood, sponsored by DalOUT, and a formal dinner/awards banquet at the Lord Nelson Hotel, sponsored by Dal's Faculty of Health.
On the first day of the conference, Crossroads students attended two mini-courses. Dr. Becky Spencer, senior instructor in Dal's School of Health and Human Performance, taught the first mini-course, which addressed qualitative research. The second mini-course centred on trauma awareness training, and was taught by Rena Kulczycki, community development facilitator, coach, and trainer.
Crossroads 2023 hosted three panels: Health for All, Digitalization of Health, and Tackling the Challenges of Food Security.
Dal PhD in Health candidate Crystal Watson, who facilitated the first panel, encouraged the audience's up-and-coming health professionals to "meet patients where they are, and understand where they're coming from."
On its final evening, Crossroads welcomed the Honourable Wanda Thomas Bernard, Nova Scotian representative for the Senate of Canada, as distinguished speaker. Promoting hope as essential to (re)picturing health, Senator Bernard discussed how her own life experience informed her career as a social worker and Canadian senator. She has strong connections to Dal, serving as advisor on diversity and inclusiveness, and as professor emeritus in the School of Social Work.
"I feel we were able to bring back what past attendees appreciated most about Crossroads as well as introduce new elements to the conference such as the Awards Banquet. I believe there is always room for growth and improvement, and I am excited to see what next year's co-chairs and planning committee bring to Crossroads," said Title.