News
»
Go to news main
Dal Health researcher contributes to new book on frontline responders and mental health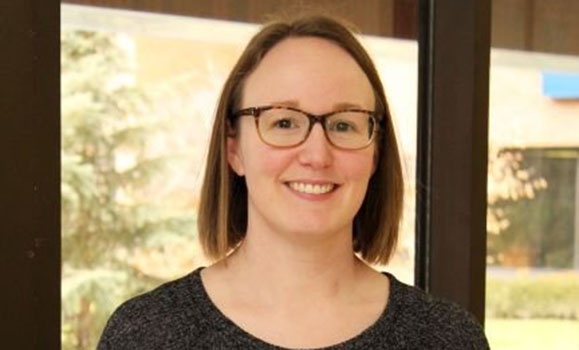 Dr. Caitlin McArthur, Assistant Professor in the School of Physiotherapy, is co-author of a chapter in the new e-book, COVID-19, Frontline Responders and Mental Health: A Playbook for Delivering Resilient Public Health Systems Post-Pandemic by Jennifer A. Horney, University of Delaware.
Dr. McArthur's expertise is in improving rehabilitation for people living with chronic health conditions, particularly home and long-term care. She is interested in fall and fracture prevention and improving functional mobility for clinically complex older adults. The chapter she co-authored is on the effect of the COVID-19 pandemic on mental health in long-term care.
"The evidence describing the effect of the pandemic on mental health and quality of life is mixed, with some studies describing increased rates of mental health concerns and others presenting modest increases or even decreases," she says. "Creative strategies to mitigate negative mental health consequences of lockdown included technology supported and window or outdoor visits, increased access to volunteers, and supports for families. However, the evidence in this area continues to evolve as subsequent waves of the pandemic progress."
It's an important area of study because mental health and quality of life are vital within long-term care homes, given the often poor health of residents and decreased ability to make decisions for themselves. The COVID-19 pandemic had the potential to further compound these issues through lockdowns limiting movement within and outside of LTC homes, increased fear of severe COVID-19 infections, staff shortages, and impaired communication through personal protective equipment worn by staff.
"Mental health and quality of life are extremely important for long-term care residents so they can enjoy the last months and years of their life as much as possible," Dr. McArthur says. "The pandemic exposed many existing cracks in the LTC setting, but also provided opportunities for creative strategies to evolve and be tested."
---
Co-contributors to the collection include:
Reem T. Mulla – PhD candidate at the School of Public Health Sciences at the University of Waterloo
Dr. Luke Turcotte – assistant professor at Brock University in the department of Health Sciences
Jessica Chi-Yen Chu – undergraduate student in Public Health at the University of Waterloo
Micaela Jantzi – Data manager for interRAI Canada research group at the University of Waterloo
Dr. John Hirdes – professor in the School of Public Health Sciences at the University of Waterloo, Fellow of the Balsillie School of International Affairs
COVID-19, Frontline Responders and Mental Health focuses on the impacts of the pandemic on responder health across health care, public health, emergency management, and more. The chapters are written by experts in the field and provide an overview of the mental health impacts of disasters and emergencies on responders and also highlight the inequitable impacts of the response among sectors of the workforce and populations who are socially or physically vulnerable.
Portions of this work was funded by the Canadian Frailty Network, Canadian Institutes of Health Research, the Government of Canada's New Frontiers in Research Fund for the Horizon 2020 research and innovation programme individualized CARE for Older Persons with Complex Chronic Conditions in Home Care and Nursing Homes.
The e-book can be purchased through via ebook.com. Enter the code Emerald30 at checkout to get a 30% discount.