News
»
Go to news main
Bringing PrEP prescribing into community pharmacies: Dal Health professor leads first‑of‑its‑kind project in Canada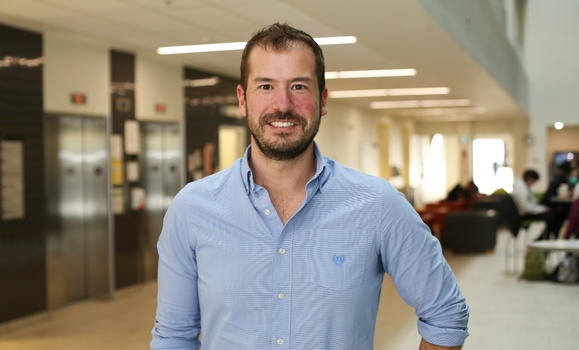 Dr. Kyle Wilby, Associate Professor in the College of Pharmacy, is leading the project PrEP-Rx - Pharmacist Prescribing of Pre-Exposure Prophylaxis (PrEP) for HIV (Human Immunodeficiency Virus) in Nova Scotia.
PrEP consists of a combination of medications and is a highly effective way to prevent HIV for high-risk populations.

Dr. Wilby says having pharmacists prescribe PrEP brings it into the communities, and reduces the amount of contact time with the health care system, as you are being prescribed and given medication during one visit. He says it will also release burden on primary care.
This first-of-its-kind-demonstration project in Canada will consist of a six-month study in which 50 patients in Nova Scotia will be prescribed PrEP by pharmacists from ten different pharmacy sites. Researchers will ensure the pharmacists can care for their patients in partnership with the Halifax Sexual Health Centre. At the end of the study, the team will apply to add this to the government funded prescribing authorities that pharmacists have in Nova Scotia, which already includes birth control and UTI medications.
"For gay and bisexual men who have sex with men or transgender women, people who inject drugs, and HIV-negative heterosexual people who have HIV positive partners, PrEP changed the way the world prevents HIV," Dr. Wilby says.
When asked about the need for this project, Dr. Wilby outlined the barriers to access and stigma.
"I'm a PrEP user myself, and it can be really difficult to get it in Nova Scotia because of the waitlists and limited access to family doctors and nurse practitioners. It's also stigmatized because of the populations that are accessing it."
His hope is that this project improves access to care and identifies other potential links to services needed for populations that are typically harder to reach.
This project is funded by an unrestricted research grant from Shoppers Drug Mart for $400,000 and is in partnership with the Nova Scotia College of Pharmacists, Pharmacy Association of Nova Scotia, Community-Based Research Centre, Nova Scotia Health and the Halifax Sexual Health Centre.
"I'm really proud that Dalhousie is able to lead this. I'm proud and humbled to be part of it. The pharmacy profession has a lot to offer, and we are ready to work with our health-care colleagues to help patients any way we can."
For more information on this project, including recruitment criteria, please email preprx@dal.ca.