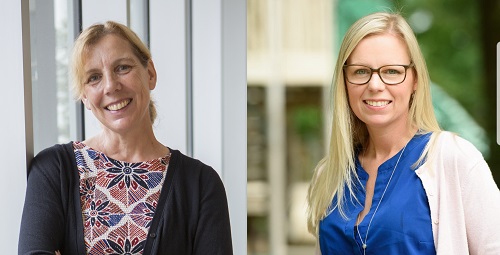 Congratulations to Dal Faculty of Health Professors Sara Kirk (left) and Sarah Moore, who are part of a national team to secure $3 million in research funding to support healthy cities.
The Canadian Institutes of Health Research (CIHR) recently announced new funding to support six research teams that are studying how to make Canada's cities healthier, more equitable places to live. The Healthy Cities Implementation Science Team Grant was launched as a part of the CIHR Healthy Cities Research Initiative and in partnership with the Public Health Agency of Canada. Over $27 million in research funding will be distributed over the next six years.
Moore and Kirk were co-principal applicants for their research project titled Building CapaCITY/É for Sustainable Transportation (CapaCITY/É).
"This project shows we are committed to improving the health of our communities," says Kirk, who is also Scientific Director of the Healthy Populations Institute, a multi-faculty research institute that aims to improve population health and health equity in Atlantic Canada. "This grant brings funding for new Dalhousie trainees to support this work and be at the forefront of sustainable cities and health equity implementation science in Canada."
Collaboration is critical
CapaCITY/É includes a pan-Canadian team of over 50 researchers, city planners and community groups. The project will be guided by Meghan Winters from Simon Fraser University and executive team members Marie-Soleil Cloutier from the Centre Urbanisation Culture Société of Institut National de Recherche Scientifique in Montreal.
Other research team members are based at Université de Sherbrooke, Queen's University, Toronto Metropolitan University, York University, Université de Montréal and The Hospital for Sick Children. The research partners with several major Canadian cities, including Montreal, Kingston, Guelph, Toronto, Saskatoon, Calgary, Surrey, Victoria and Halifax.
Without major changes, the researchers assert that cities will struggle to meet their targets for sustainable transportation set in response to congestion, health and the climate crisis. "Walking, wheeling, cycling and public transit rates are low and inaccessible, in part due to widespread concerns about safety as well as a lack of supportive infrastructure," says Moore.
Since 80 per cent of people in Canada live in cities, understanding what can be done in an urban context to promote better health and equity across populations is a critical area of research.
"The outcomes of CapaCITY/E will impact directly on how we move about our cities, resulting in change that will affect the health of our people and environment," says Shaun Boe, Associate Dean Research, Faculty of Health. "The engagement of Drs. Moore and Kirk is evidence of the Faculty of Health and Dalhousie's commitment to research that improves health for the communities we serve."