News
»
Go to news main
Making an Impact
Posted by
Josey Houle, Dal Health Communications Intern
on October 3, 2022 in
Students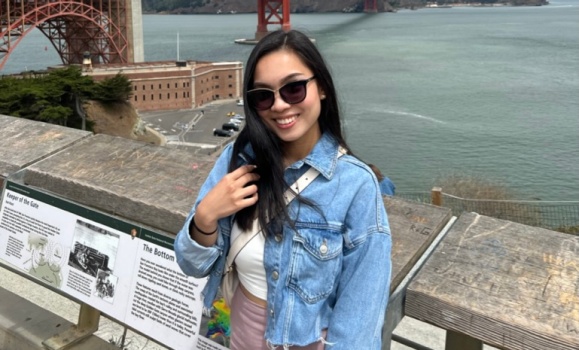 Catherine Rose Talastas is excited to start her second year in Dal Health's new online Master of Science in Occupational Science Program. From her home in British Columbia, she is ready to complete her thesis project on a cause that is close to her heart.
At the beginning of the pandemic, Talastas recognized the severe effects that social media was having on her mental well-being: "It filled up my time, but at the same time, I was so lost." The pandemic-induced growth in social media use means that students have witnessed an increase in online portrayals of anxiety and depression. Building upon this understanding, Talastas will be gathering qualitative data through semi-structured interviews with post-secondary students.
She insists that there are no right or wrong answers to her questions—instead, she is seeking to investigate different perceptions of the interrelation between occupation and mental health. Talastas was prompted to address the following questions in her research:
"How are other young adults feeling?
What did they do to get through this?
What are the aftereffects of their experiences?"
Upon finishing her bachelor's degree in occupational therapy at the University of the Philippines, Talastas was certain that she wanted to extend her education in occupation further, beyond therapy. She feels that occupation "is still undervalued in terms of looking at health and wellness." It was the MScOS program's distinguished faculty and interdisciplinary teaching methods that drew her to Dal. She is fond of the program's social constructivist approach to education: a practice that sees knowledge as resulting from social interactions rather than individual experiences.
"All of us occupational science students are different, there is no single recipe for what we do," she said.
The program's online format allows Talastas to make interprofessional connections with students across the world, each from different sectors in occupation. In meeting fellow students and learning about their particular interest areas, Talastas' appreciation of occupation has evolved:
"All of their perspectives are really interesting- things I've never really thought of before. Those different facets of understanding are really important," Talastas said.
In the MScOS program, students from diverse occupational backgrounds are taught to equip interdisciplinary approaches, theories and perspectives in their learning. This allows them to deepen their understandings of how human occupation relates to health, social and human rights, communities, and societies. Thanks to the program's research thesis stream, students can focus on individuals or demographics that are of particular interest to them, while simultaneously advancing their skills in research and knowledge transferring.
In starting the online MScOS program, Talastas never thought she would be able to learn, form friendships, or engage in conversations as successfully as she has. Her classmates and professors are "really connecting with each other," united by their passion for occupational science regardless of the physical distance between them.
Talastas explains how "Dal ticks all the boxes" of what she wants in a master's program. Professors and faculty are "very helpful", offering guidance on research skills, proposal writing, and the collection of data. She doesn't ever feel overwhelmed, even as a full-time student with a part time job. She is grateful for all she has gained from the program, insisting:
"I wouldn't be able to get to this point if I didn't have these kinds of supports."
Looking Ahead
In addition to a collaborative project that she and her classmates have been working on, Talastas presented her thesis proposal at the World Occupational Science Conference this Summer. Crediting Dal's online MScOS program with fueling her "love" for occupational research, she hopes to further her education in occupation. She was excited to meet her classmates and professors in person, exclaiming:
"Hopefully we get to publish all of the things that we do."