News
»
Go to news main
Dr. Martha Paynter's Abortion to Abolition encourages Canadians to take account for our reproductive rights' history
Posted by
Josey Houle, Dal Health Communications Intern
on July 15, 2022 in
Alumni & Friends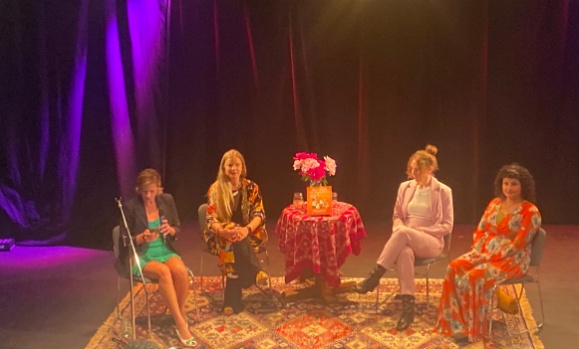 Dal School of Nursing scholar, researcher, writer, nurse, activist and non-profit founder Dr. Martha Paynter, PhD, RN, can add published author to her list of titles. Her first book, Abortion to Abolition: Reproductive Health and Justice in Canada, elaborates on a history that has gone mostly untold. Paynter digs deep into stories outlining the progression of Canadian reproductive rights and education, hoping readers will learn from advocates' past mistakes and successes. Paired with these stories is Paynter's extensive research on how prison abolition could ameliorate citizens' access to reproductive care.  
Illustrations by Julia Hutt contribute to the narratives of advocacy, as Paynter believed that, in addition to advocates' work being explained, "each of these individuals also deserved a portrait." Working together, Hutt and Paynter explain how our country arrived at our modern-day approach to abortion care, which, as described by Paynter, is "unlike anywhere else in the world, it is completely decriminalized, without any gestational age limits and can be acquired through primary care." Yet, despite our nation's relatively progressive stance on reproductive rights, Paynter elaborates on what Canada can do better to ensure that equitable reproductive health is attained in our country.  
How will prison abolition ensure better abortion care for Canadians?
Paynter says many Canadian systems prevent access to reproductive justice. Such systematic threats include colonialist and racist histories of policing and imprisonment, public fertility health services that are lacking, oppression against the reproductive rights of Indigenous women and girls, and more. In linking these understandings to prison abolition, Paynter advocates for further success in our country's 'reproductive liberation.'
How should Canadians navigate the overturning of Roe vs. Wade in the USA?
On the American Supreme Court's June 24th decision to overturn Roe vs. Wade, a law that ensured equitable abortion access across the United States, Paynter explains: "the fear that bubbled up following the decision is really what prompted me to write this book in the first place."  
In terms of what Canadians can do to promote the progress of abortion access in our own country, Paynter says, "We have accomplished lot in the past 7 years, but we must keep the conversation going, so that we can build capacity for improved access to abortion care."
Paynter encourages Canadians to ask their health-care providers about prescribing medical abortion through pharmaceutical drugs such as Mifepristone. Through further conversations with patients on abortion care, Paynter is confident that Canadian health-care providers will grow in confidence around providing access to abortion care, ultimately allowing the topic to become more normalized in Canadian society.
Background:
Dr. Martha Paynter works as a nurse who offers abortion and postpartum care, an activist, a writer, and the founder and head of "Wellness Within: An Organization for Health and Justice."
In addition to several prior publications on reproductive health and care, Paynter's Abortion to Abolition: Reproductive Health and Justice in Canada reflects her 20 years of working to "advance gender health equity." Her other writings have been published in Briarpatch, CBC, The Coast, The Conversation, The Halifax Examiner, and Saltwire. Paynter was inspired to complete her book in 2020, having completed a federal prison project that educated women through workshops on their reproductive health and rights. Paynter successfully defended her PhD dissertation in May 2022.