News
»
Go to news main
Finding support for seniors
Posted by
Dawn Morrison
on March 24, 2022 in
News
New Dalhousie Faculty of Health partnership looks at evaluating local resources for older adults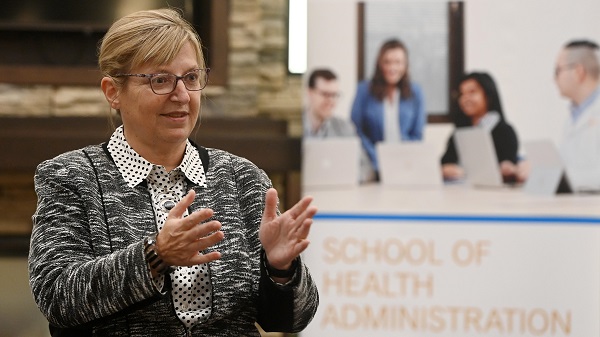 Barbara Adams, Minister of Seniors and Long-Term Care, at a recent event at the School of Health Administration. 
Older adults can live at home longer, healthier, and more actively when there are community supports and services in place to meet their needs. Led by researchers in Dalhousie's Faculty of Health, a new project involves working with three communities in Cape Breton to understand and evaluate what programs older adults need. 
The ACTing Collectively Research Project is funded by the 2020 Nova Scotia Research Fund ($99,308) and the Nova Scotia Department of Seniors and Long-Term Care ($517,500). The collaboration also includes Northwood Corporate and the Canadian Association of Retired Persons (C.A.R.P.), Nova Scotia Health and BRIC Nova Scotia.
Older adults living at home in Richmond County, Victoria County and the Cape Breton Regional Municipality will be interviewed about their concerns and will receive a list of resources mapped to their prioritized needs. By combining their responses, the most used and needed resources will be identified. Most importantly, gaps in services will also be identified, giving local policy and decision-makers the local data they need to create services and resources for their communities.  
"ACTing Collectively builds on the pioneering work of Northwood, the first in Canada to use the World Health Organization-recognized ACTTM tools. In this project we will serve older Nova Scotians, using their voices to help local decision makers create age-friendly communities," says Dr. Tanya Packer, Co-PI of ACTing Collectively and Director, The School of Health Administration.
"This is more than a research project — it is a partnership with communities to identify the concerns of older Nova Scotians and what resources are available to meet those needs. We are collaborating with multiple partners to improve supports for older adults in our province," says Grace Warner, Co-PI on the project and Professor in the School of Occupational Therapy.
"As a province, we wouldn't be where we are today without the contribution of older Nova Scotians. They deserve our respect and dignity, and our government is committed to making sure seniors have the level of support and care they need, when they need it. This project will help us find solutions that improve the lives of older Nova Scotians now, and into the future," says Barbara Adams, Minister of Seniors and Long-Term Care.
The issue
A recent March of Dimes Canada report notes that although more than 75% of Canadians wish to age in place, only 26% predict that they will be able to do so. A 2020 Canadian Institute for Health Information (CIHI) report found that one in nine long-term care residents across Canada could have stayed at home if they had adequate supports. To do so, the report says, older adults and their families need better knowledge of, or connection to, available resources.
Community-level data is needed to evaluate and monitor the health and wellbeing of aging adults and the communities in which they live. This is critical for developing policies and programs that support aging well in communities. The ACTing Collectively project will pilot an innovative approach to gathering data on the needs of community-living older adults.
The project will use an innovative set of integrated tools called Age Care Technology (ACTTM) to:
 map, then build a digital platform housing local resources;
 assess the needs of individual older adults and provide them with a report linked to a list of related community resources;
create individualized, community-level reports that can be used by policy makers and planners to identify common concerns and local resources important to aging well; and
 connect to a global database that tracks intervention outcomes and trajectories in aging adults' wellbeing, independence, social connection, and health in other locations.
The results will provide valuable data to inform NSH wellness planning and programming and Nova Scotia Department of Seniors and Long-Term Care age-friendly initiatives on what community resources are available and what resources need to be developed to help older adults age well in their communities.