News
»
Go to news main
New CIHR‑funded collaboration between Dalhousie and the University of Calgary to address health inequities of incarcerated Indigenous women
Posted by
Dawn Morrison
on January 11, 2022 in
News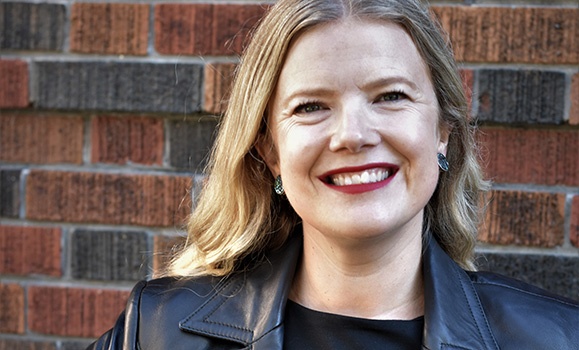 The over-incarceration of Indigenous women, transgender and nonbinary people within the Canadian correctional system is well researched and documented — but their voices and detailed data on their perinatal and reproductive health are not. New research by co-PIs Martha Paynter, doctoral candidate in the School of Nursing at Dalhousie and Dr. Jennifer Leason, PhD (CIHR Canada Research Chair, Indigenous Maternal Child Wellness) of the University of Calgary aims to address these inequities and research gaps in a way that centres people who experience incarceration and their experiences from a collaborative, holistic and trauma-informed perspective.
The Indigenous-led project Honouring Voices and Visions: Illuminating Incarcerated Indigenous Womxn's Sexual, Reproductive and Maternal-Child Health and Wellness recently received the Canadian Institutes of Health Research (CIHR) Indigenous Gender and Wellness Grant in the amount of $500,000. The project is a collaboration involving knowledge keepers, academics, clinicians, community groups like the Canadian Association of Elizabeth Fry Societies (CAEFS) and Corrections Canada. Principal applicants also include Emilie Coyle (Executive Director CAEFS);  Dr. Tracy Bear, PhD (Director Indigenous Research Institute, McMaster University); Dr. Jamie Cidro, PhD (Associate VP, Research and Innovation; Canada Research Chair in Health and Culture; Director, MDP Indigenous Development; Professor, Department of Anthropology); Dr. Fiona Kouyoumdjian, MD, MPH, PhD, CCFP, FRCPC (Assistant Professor, Family Medicine, McMaster University; Adjunct Scientist, ICES); and Dr. Jessica Jurgutis, PhD (Assistant Professor, Departments of Gender & Women's Studies and Indigenous Learning, Lakehead University). Co-Applicants include Dr. Chelsea Gabel, PhD (Associate Professor; Canada Research Chair, Indigenous Well-Being, Community Engagement and Innovation, McMaster University);  Dr. Nicole Catherine, PhD (Mowafaghian University Research Associate Children's Health Policy Center, Faculty of Health Sciences at Simon Fraser University); Dr. Robert Henry, PhD (Assistant Professor University of Saskatchewan, Executive Director First Nations Métis Health Research Network); Dr. Jessica Liauw (Clinical Assistant Professor Maternal Fetal Medicine, University of British Columbia); and Robin F. Hansen (Associate Professor, College of Law University of Saskatchewan).
"The disproportionate incarceration of Indigenous women is a continuation of colonialism," says Paynter. "We have an ethical imperative to address this. The Truth and Reconciliation Commission demands it, as does the National Inquiry into Missing and Murdered Indigenous Women and Girls. As health care professionals, we know that incarceration is extremely dangerous to health. Prison makes you ill. It hurts you. So, intervening is also important from a clinical perspective."
Martha Paynter is a registered nurse working in abortion and reproductive health care in Halifax, Nova Scotia. The founder and director of Wellness Within: An Organization for Health and Justice, she has 20 years of experience working to advance health equity. Her practice, teaching and research focus is on the intersection of reproductive health and the justice system. The project builds on Paynter's research on the intersection of reproductive health and the criminal justice system.
Dr. Jennifer Leason is the Canada Research Chair in Indigenous Maternal Child Wellness and associate professor in the Department of Anthropology and Archaeology at the University of Calgary. She says the project will give incarcerated Indigenous women a means of expression, using decolonized methodology.
"We have an opportunity to really hear from these women, who will be able to express their experiences in a safe environment. We hope the project will help address and rectify some of the inequities in maternal and reproductive health research and the exclusion of incarcerated women's voices," says Dr. Leason who is Anishinaabe off-reserve member of the Pine Creek Indian Band, MN.
National research efforts on perinatal healthcare experiences have typically excluded incarcerated people, Indigenous women, transgender and nonbinary peoples. For many Indigenous people, involvement in the criminal justice system stems from complex factors such as racism, violence, and exploitation. These experiences are the effects of historical and ongoing colonization in Canada, which create social inequities resulting in disproportionately poor health and social determinants and outcomes among Indigenous peoples.
The project seeks to address these issues, build research excellence and address significant knowledge gaps about the sexual, reproductive, and maternal-child health experiences of Indigenous people experiencing incarceration. It will explore critical connections between gender, trauma and sexual and reproductive health, with the ultimate goal of making a difference in care and outcomes.
Researchers will visit and collect evidence from people in the six federal institutions designated for women across the country through quantitative and decolonizing (arts-based) qualitative methods.

"One of the most important aspects of the project for me is hearing and sharing the stories that that will accompany the art pieces," says Dr. Leason, who adds that a digital art exhibit will be used as a medium for research and knowledge exchange and implementation.
"This project will bring transparency and knowledge related to the maternal health of incarcerated women that will generate EDI-informed strategies to promote health," says Dr. Brenda Merritt, Dean of the Faculty of Health. "It's critical to have this detailed data and data analysis so that we can better understand the health status of this vulnerable sector of women. When we do not have fulsome data, we open the door to poorer health outcomes and further marginalization."