News
»
Go to news main
International impact: Health Sciences student published in Cambridge Medical Journal; creates international charity
Posted by
Terry Murray-Arnold
on October 20, 2021 in
News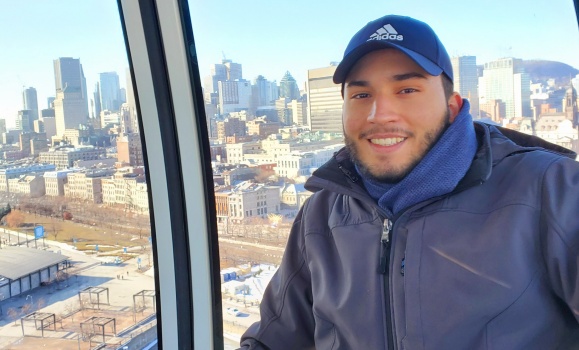 Dal Health student Q&A with Mohamed Nashnoush, Bachelor of Health Science (BHSc) in Sonography.
Why did you choose Sonography?
Ultrasound incorporates the perfect mix of cutting-edge technology, cross-sectional anatomy, and pathophysiology. As an ultrasound technologist, you are at the frontline tasked with investigating the root cause behind the patient's symptoms. You play the detective's role and contemplate the history, lab tests, medical imaging, and symptoms to develop a cohesive list of differential diagnoses. I also find the operator-dependence of sonography to be fascinating and empowering. Sonographers have to use their discretion and competence to delineate pathology accurately.
Can you describe your leadership and humanitarian work? 
I have had the chance to garner a diverse set of volunteer experiences at the regional and international levels. At Dal, I am currently the president of STEM Fellowship, where we organize scholarly workshops, networking events, and big data youth challenges. With over 60 members and $5,000 in funding, we have empowered STEM students throughout the Maritimes.  
At the national level, I founded RadScholars, a federally registered charity of students and healthcare professionals dedicated to remotely conducting research in the field of radiology. As someone extensively invested in their field of study and practice, I have decided to shed light on a field that is often dismissed while increasing education accessibility. We have reached over 300,000 students and healthcare practitioners from 132 different nations with more than $6,000 in funding.  
We have partnered with the Canadian Association of Medical Radiation Technologists (CAMRT), the International Myeloma Foundation, the Canadian Medical Association and many more to host conferences, webinars, and support student-led research opportunities. Currently, there are 40 active research groups, each working on an array of projects such as meta-analyses, systematic reviews, literature reviews, cohort & longitudinal studies. Our leadership team consists of 32 active members that manage, facilitate, and coordinate didactic events to ensure research teams are supported in their scholarly endeavours.  
Since its inception, RadScholars has developed into an inclusive, diverse community of students and healthcare practitioners dedicated to incubating, open-sourcing, and dispersing powerful ideas to advance diagnostic imaging, therapeutics, and preventative medicine. By leveraging fellowship and connection, we aspire to improve the lives of others and support innovation.
[In 2020 Nashnoush led a research project A Comparison of the Efficacy of Diagnostic imaging Modalities in Detecting COVID-19 was published in the Cambridge Medicine Journal (CMJ)]
"I hope I can continue to embark on this exhilarating journey of scientific discovery"
What was it like to be an undergrad and have a study published in a journal like CMJ? 
I always had an affinity towards research and contributing to the scientific body of evidence is a way for me to leave a footprint on the landscape. Publishing in the CMJ brought me closer to my goal, and I hope I can continue to embark on this exhilarating journey of scientific discovery.   
Why did you decide to do the study? 
At the time I started working on this project, the pandemic was in the early stages in Canada. I wanted to find a way to contribute to the fight against the pandemic by countering the "infodemic" — the spread of misinformation. I knew this would manifest as a research project, and so I started to gather a team of like-minded people who were eager to explore the role of diagnostic imaging in the detection of COVID-19. I spearheaded the project and received guidance and mentorship from Dr. Safwan from Stanford University. I was glad to see how our enthusiasm and hard work came to fruition in the form of a publication in a reputable journal. 
What are you working on now?
I recently completed another review, entitled "Tissue Doppler Imaging: An Overview," that was accepted by the Journal of Clinical Medicine. This project was advised by School of Health Sciences instructor Erin Lushman, who helped me add a rigorous quantitative lens to the research. Earlier this year, I had the chance to publish a paper in the Healthy Populations Journal which examined the morality of suicide; a rather controversial topic. The Healthy Populations Journal (HPJ) is a multi-faculty, peer-reviewed journal housed at Dal Health's  Healthy Populations Institute (HPI), and I am very fortunate to have contributed to their very first issue.  
I have also been working with Dal Faculty of Medicine's Dr. Kathryn Ewart on predicting the hemolytic, amyloidogenic and antimicrobial propensities of various Anti-freeze proteins. I am elated to have had the chance to present our research at the 2021 National Canadian Society of Molecular Biosciences Annual Conference. We are currently working on a forthcoming publication that will be published in a PubMed indexed journal.  
My most recent scholarly endeavour is a project involving the application of AI and machine learning in predicting neurodevelopmental anomalies in preterm neonates under the supervision of Dr. Ahmed at the IWK. We hope our research will open new doors in Radiology and increase the efficiency of dictation.